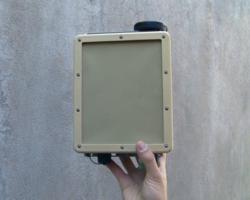 "The M80 represents a game-changing solution for force protection. With this type of SWAP (Size, weight and power) it is now possible to get a miniature G-BOSS system in a backpack."
Orem, UT (PRWEB) January 09, 2012
SpotterRF unveils production units of the M80 - a breakthrough small radar system that will revolutionize the world of military and commercial surveillance. The 3lb radar is roughly the size of a large paperback novel and has proven to accurately track moving personnel in range and angle out past a distance of 500m within a coverage area of nearly 40 acres.
The M80 is specifically designed to be employed by the individual warfighter to increase their situational awareness while in hostile territory when it is difficult to know what is taking place around them. Captain Dan Kearney aptly addresses the problem faced by small expeditionary units in the documentary, Restrepo. "While it's pitch black and the helicopters can't see anything, they can't engage cause they don't know who's who. Airplanes can't tell who's who, Predators can't tell who's who, nobody knows what the hell's going on."
The U.S. Military has recognized the need for integrated force protection systems that include IR cameras and radar. Several heavy-duty systems have been developed such as the BETSS-C, used by the Army, and the G-BOSS, used by Marines, in an effort to support the surveillance needs of the warfigher. Each of these systems combines large radar (GSR) and high-power IR cameras to detect threats. While these large systems have proven to be effective in many areas such as forward operating bases (FOBs), many smaller groups in Combat Outposts (COPs) and firebases have been unable to use these large systems because of cost and support requirements.
The emergence of new technologies like miniature IR cameras from companies such as FLIR, RVision (a subsidiary of Cobham), Indigo Systems and General Dynamics, as well as small surveillance radars from Plextek and SpotterRF are making lightweight portable camera and radar systems a reality.
Logan Harris CEO of SpotterRF stated, "The M80 represents a game-changing solution for force protection. With this type of SWAP (Size, weight and power) it is now possible to get a miniature G-BOSS system in a backpack."
As well as integration with current video surveillance systems, the M80 is capable of being a stand-alone surveillance option. Specifically optimized for deployment in more dense environments, such as locations near cities or other urban environments, the M80 provides live information of each moving target within it's wide field-of-view. This information includes range, azimuth angle, velocity and location. The M80 outputs KML, JSON, as well as Cursor on Target data, an XML protocol developed by Mitre for the Department of Defense. Moving tracks of each target can be viewed on multiple platforms such as Google Earth or FalconView using any laptop or via a web browser on any mobile device.
The M80 can be quickly deployed using a standard CAT5 Ethernet cable, and calibrated for use in minutes with a built in web-based user interface. SpotterRF claims that the system is so easy to deploy that anyone who is familiar with using the Internet can setup and use the radar within 30 minutes. To aid in carrying less, the compact radar has a very low power consumption of 9W, and can run on a single BA 2590 battery for 17 hours.
SpotterRF is located in Orem, Utah, and is the industry leader in a new class of radar called Compact Surveillance Radar (CSR). To find out more please visit http://www.spotterrf.com.
###