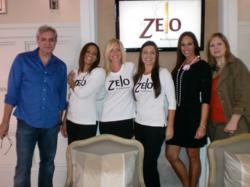 Boca Raton, Fla. (PRWEB) January 08, 2012
On 1/9/12 Boca Cosmetics Group will feature Zelo® on HSN at 1 am, 11 am, 6pm and 10pm. Zelo's popularity and growth can greatly be attributed to the effectiveness and affordability of a salon quality product. Zelo® is of tremendous value for women that regularly get Keratin treatments and currently question the safety of the Keratin product used in their salon and women that need the treatment and are reluctant to splurge on an expensive salon treatment. In either case women can count on safety, savings and results.
Zelo® will feature three models representing different ethnic groups demonstrating what Zelo® formaldehyde-free Keratin can do for curly, wavy, unruly or frizzy hair. Zelo 's popularity amongst Afro-Americans and Hispanics has been amazing as it offers them an alternative to relaxing their hair which is proved to be extremely harsh and abrasive on the hair and scalp. Zelo® works on all hair types and offers a safe, easy and an affordable solution giving hair more manageability, shine and movement. Co-Founder and Executive Director, Gisela Basilio says, "We are excited about the growth of our at home keratin treatment line over the past year. HSN has been an incredible partner since our launch in March 2011. As pioneers of a home Keratin product showcasing Zelo® on HSN has given us the opportunity to educate consumers on using a home Keratin product while building recognition and respect for the Zelo® brand. We continue to expand in the Home Shopping market, introducing Zelo® to the Canadian public on The Shopping Channel Canada on 1/23/2012."
Zelo® Ultimate Keratin Hair Straightening is a simple to use 5 step process. Everything needed to achieve salon results comes in a convenient tote bag and includes: Clarifying Deep Cleanser, Action Keratin Straightening Gel, comb, hair claw clips, written instructions, instructional DVD, gloves for application, and also includes Zelo® Keratin Salt & Sulfate Free Shampoo and Keratin Conditioner. Zelo "Velvet" gloss is also a HSN "customer pick," a favorite for its high shine, scent and value.
Boca Cosmetics Group is a cutting-edge manufacturer and innovative brand owners of consumer and professional hair care products, primarily focused on formaldehyde-free Keratin products. For more information on our products, see contact information.
###