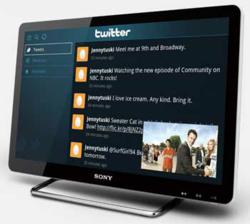 Samsung, LG and Vizio have all come forward with announcements that Google TV will be part of the online suites
Atlanta, GA (PRWEB) January 09, 2012
As more manufacturers adopt Google's Google TV technology LCDTVBUYINGGUIDE.COM publishes a new article explaining how this new "TV Operating System" will affect your viewing and which manufacturers such as Sony, Samsung, LG and Vizio will utilize the new Google TV format. The article goes on to state that Sony has already released LED televisions with the Google TV technology included and just ahead of CES 2012 Samsung, LG and Vizio have all come forward with announcements that Google TV will be part of the online suites in some of their new models.
In the article Phil Conner looks at the 2012 addition of the Android Marketplace to the Samsung Google TV suite to give consumers the ability to download and run compatible Andriod apps on their televisions. Google TV runs on the Honeycomb 3.1 version of the Android Operating System.
LCD TV Buying Guide editors also covers the extensive search ability built into the new LG Google TV that lets consumers search for specific shows and movies or browse content by category as well as the special remote that includes mouse pointer control and a full QWERTY keyboard.
Editors note also that the new Google TV is also controllable via iPhone or Android phone remote application as well.
Consumer Electronics Advisory Group Inc. operates several premier buying guide websites, including plasmatvbuyingguide.com, and lcdtvbuyingguide.com, among others. Online since 1999, the company  provides objective and thoroughly researched information through professional reviews performed by seasoned reviewers. Editors Robert Wiley and Jack Burden have been reviewing televisions since the first commercial plasma TVs hit the market in year 2000. ISF calibrator John Wirtz has been calibrating televisions professionally for 10 years.  The company adheres to strict testing guidelines using the highest caliber equipment. Company web sites have more than 15 million unique visitors each year in the fast growth consumer electronics industry.
###