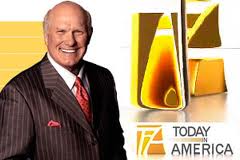 Facebook has changed the way we communicate.
Coral Springs, FL (PRWEB) January 08, 2012
The world of social media has transformed how we communicate and how we network. The producers of the Today in America TV show announce the launch of its new facebook page (facebook.com/todayinamericatv).
Hosted by Football legend and celebrity Terry Bradshaw, Today in America reaches out to inspire and inform viewers across the country about the latest news and trends in the world. The Today in America with Terry Bradshaw official facebook page provides visitors with a great way to learn about new airings, upcoming episodes, photos from behind-the-scenes, and many more fascinating aspects of the show.
Today in America TV producer Evan Golden calls Facebook: "The new way to expand your fanbase and learn about the issues and people that matter to you". For the show's host, Terry Bradshaw, the new Today in America TV Facebook page represents "a touchdown on the digital playing field".
Today in America and Terry Bradshaw are proud to announce the new Facebook page in an effort keep featured guests, the show's host, and the show's fans connected in a way that would have been unthinkable even ten years ago.
For more information on Today in America with Terry Bradshaw, including news on airings, locations, featured guests and new episodes, visit the official show website at todayinamericatv.com. For information and views of a Today in America sample video clip explore the official show YouTube channel at youtube.com/todayinamericatv. To visit Today in America's facebook page, please visit http://facebook.com/todayinamericatv
###