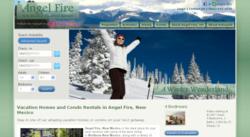 "Our ultimate goal is to put Angel Fire, New Mexico in front of every traveler worldwide." Jason Couillard, Chief Financial Officer and an owner of Kokopelli Property Management
Angel Fire, NM (PRWEB) January 09, 2012
Kokopelli Property Management announced the launch of a new destination website for Angel Fire, New Mexico, to reach the growing number of vacationers searching for rental homes in Northern New Mexico. The Angel Fire website focuses on showcasing Angel Fire's vacation rentals, increasing online revenue for property owners and providing luxury accommodations for guests.
In September, 2011, Kokopelli Property Management acquired Four Seasons Real Estate, becoming the leading Vacation Rental Management Company in New Mexico, and bringing to the area 35 years of rental experience, extensive marketing resources and superior industry knowledge. Kokopelli is a member of the Vacation Rental Managers Association (VRMA) and has partnered with Vacation Storebuilder (also VRMA member) to create a destination travel website for the Angel Fire area to further increase tourism in the Enchanted Circle.
Amy Mutual, Director Sales and Marketing for Vacation Storebuilder said, "Our goal in working for Kokopelli was to increase rental revenue for property managers by creating a secure website which simultaneously spotlights the uniqueness of Angel Fire as a destination and the amazing, family-friendly vacation properties they manage there."
The website includes a secure booking engine on which homes and condos are rented for vacation use, an activities guide, a dining guide and an events guide, as well as information about the town of Angel Fire.
Jason Couillard, Chief Financial Officer and an owner of Kokopelli Property Management said, "We see the website (http://www.angelfirenmvacations.com) as an opportunity to do something no one in the area has done before. Angel Fire is a fantastic travel destination year-round for anyone who enjoys outdoor activities, regardless of the season. Our ultimate goal is to put Angel Fire, New Mexico in front of every traveler worldwide."
About Vacation Storebuilder
Vacation Storebuilder, a division of Vibes Interactive, launched in 2010 and is an advanced SaaS platform which enables vacation rental providers to quickly build and manage websites Our turnkey solutions provide robust websites which showcase properties, drive traffic, increase conversion, and manage membership and ownership. For more information visit http://www.VacationStorebuilder.com.
###