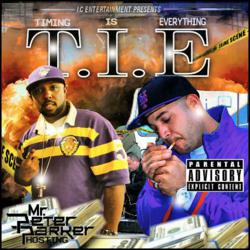 Miami, FL (PRWEB) January 09, 2012
Rap artists Bullet Brak and Corey Black recently released their mixtape "Timing is Everything. Coast 2 Coast Mixtapes and I.C. Entertainment present the project, which is hosted by Mr. Peter Parker. It is now available for free download. "Timing is Everything" features Bullet Brak and Corey Black on tracks with guest artist appearances from Kite Status, D. King, The Advocate, Dub-G, BBS, Jay Galvatron, and Freddy Smuv. Production credits include B9'Z, Boogie Bonds, R.E.D., and Crooktooth.
Matthew Brock, aka Bullet Brak, has been blazing the underground scene for years, during which time he has fully developed his musical abilities and spent much time broadening his horizons demonstrating his talent. After taking a short hiatus, in 2009 Brock acquired his diploma; graduating with honors in audio engineering, music production, and music business from I.A.R. (Institute of Audio Research, Greenwich Village, NYC). Brock is now ready to hit the national circuit full blast. After performing for and captivating crowds across the country, it is plain to see, "Bullet Brak is a problem."
Corey James aka Corey Black began his music aspirations in early 2005. With countless features and collaborations, Corey has managed to keep his grind full sail through the years by releasing a street album and mixtape. In the fall of 2009, Corey released a mixtape entitled "H.I.M." In the process of taking that project to the streets pushing it hand to hand, DelRay Richardson of CEO of DelFunk Boy Music got ahold of it in Los Angeles. Impressed by Corey's sheer talent with song writing, production and delivery, DelFunk Boy entered into a joint venture with Corey Black's BlackFace Enterprize, a company that he formed in 2005. This new venture with DelFunk Boy Music led to the worldwide digital release of Corey Black's debut album entitled "Hustlaz Manuscript," which is available on all digital retail sites. Corey has been extensively involved in production, not only for his own projects, but for other artists as well. In March of 2011, Corey released a mixtape entitled "Trunk Hustle," soon followed by his much anticipated sophomore release entitled "Over Qualified Under Privileged." The industry should prepare for Corey to emerge on the scene with amazing talent, ambition, and drive.
Originally from the Boston area, Minneapolis' Mr. Peter Parker has now cemented himself as the only major mixtape DJ in the area. In conjunction with radio workouts, he hosts his own exclusive mixtape project series: "How Hard Do You Hustle?" and "Grind Season Go-Getters." The official mixtapes, cheered on by the hottest talent in the mixtape game such as Lupe Fiasco, Ice Cube, Wiz Khalifa, J.Cole, Wale, Styles P, Freeway, David Banner, Guru from Gangstarr, and Saigon just to name a few, have created major buzzes in the music business. Mr. Peter Parker is an official Coast 2 Coast DJ, along with his affiliation with Shadyville DJs and Core DJs.
"Timing is Everything" is available for free streaming and download at http://coast2coastmixtapes.com/mixtapes/mixtapedetail.aspx/mr-peter-parker-and-coast-2-coast-mixtapes-present-bullet-brak-and-corey-black-timing-is-everything
###