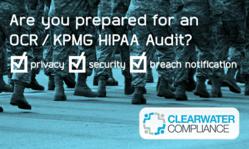 Nashville, TN (PRWEB) January 09, 2012
Today, Clearwater Compliance LLC announced that it will be hosting an executive-level HIPAA/HITECH conference for healthcare "Covered Entities", "Business Associates", and "agents or subcontractors" that create receive, maintain or transmit ePHI. The conference will be held on February 9, 2012 in Atlanta, GA. The one-day BootCamp™ will help prepare organizations to become and remain compliant with the HIPAA-HITECH regulations and to prepare for potential audits by OCR/KPMG or by their clients.
"With so much information out there about HIPAA and HITECH regulations and the more rigorous enforcement efforts, we have found that most organizations don't know where to begin when it comes to preparing for an audit." said Bob Chaput, CEO of Clearwater Compliance. "So we've brought together experts in this field for an informative, relevant, and intensive learning experience designed for busy executives who may not know what they need to know. They will learn what they need to know in only one day."
WHEN: February 9, 2012
WHERE: Hilton Garden Inn-Atlanta Airport North
3437 Bobby Brown Parkway
East Point, GA 30344
TIME: 8:30 a.m. – 5:00 p.m. (Lunch and refreshments provided.)
COST: $595 per person. $100 discount for multiple attendees from a single organization after the first person registers.
WHO SHOULD ATTEND: "Business Associates", "Covered Entities", and "agents or subcontractors" that create, receive, maintains or transmit ePHI
EDUCATION CREDIT: The course has qualified for CPE credit.
For more information or to register visit http://clearwatercompliance.com/bootcamp.
Clearwater Compliance http://www.clearwatercompliance.com
Clearwater Compliance helps Covered Entities, Business Associates and their Subcontractors assess their HIPAA-HITECH compliance programs, identify gaps and prioritize remediation efforts to ensure the greatest return on capital and resource investments. It delivers that return on compliance investment through education, tools and software, risk management solutions and professional services and consulting.
# # #