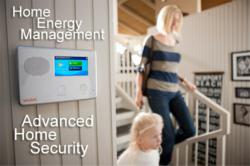 "Homeowners are looking for practical solutions to high energy bills and concerned about protecting their home without being locked into long term contracts" says Tom McBride
Wilmington, DE (PRWEB) January 09, 2012
Burns & McBride Home Comfort (http://www.burnsandmcbride.com) announced today it is launching the unique "Smart-Safe" Home system for homeowners in Delaware and Pennsylvania combining Energy Management with Advanced Home Security. Burns & McBride Home Comfort has developed this unique system to:

Lower home energy bills
Provide 24/7 home security coverage for fire, burglary and heating emergencies
Allow homeowners to control their home remotely using their cellphone
The "Smart Safe" Home system combines Burns & McBride Home Comforts 62 years of technical experience with the award winning 2GIG Go!Control home management system, providing simple and affordable home automation and security. The Go!Control panel contains a snap-in cellular radio as its primary communication mechanism, allowing 24/7 connectivity without requiring a traditional telephone line.
The panel also contains a built-in Z-Wave radio, offering wireless home automation standard with every installation. Through Burns & McBride's partnership with Alarm.com, tasks such as arming, disarming, thermostat setting, lighting control, lock control, and video monitoring can be done from anywhere in the world via a smart phone or the Internet.
Just as the smart phone has changed the way we look at telephones by combining the telephone with dozens of other uses; the "Smart-Safe" home system has changed traditional home security by combining energy management and home management into one device.
In speaking with homeowners throughout the Delaware Valley, a common concern was the high cost of energy. The unique "Smart Safe" home system makes any HVAC system – new or old – better by automatically setting the thermostat back every time the homeowner leaves and arms the system.
Customers have also said that although they liked the idea of a home security system for peace of mind they did not want to be locked into a long term commitment nor did they like the fact that the monthly payment for a stand-alone security system was expensive.
The "Smart Safe" home system uses the energy savings to largely pay for the cost of monthly monitoring. Regardless of whether had old or new HVAC equipment it can reduce their energy bills.
Burns & McBride Home Comfort is a locally owned business serving the home comfort needs of Delaware Valley homeowners since 1949. It has been a pioneer in using advanced technology to provide practical solutions to homeowner problems.
For more information about Burns & McBride Home Comfort and the "Smart Safe" Home system, please visit http://www.burnsandmcbride.com or call us at 302-656-5110.
###