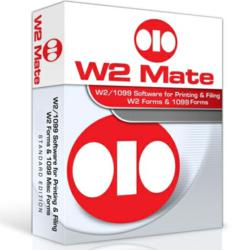 Our W2 Mate software has some of the best W2 1099 software features in the industry. Regardless of your evaluation criteria you will quickly find out that our software ranks up there. See for yourself by downloading a free demo from www.W2Mate.com
Chicago, IL (PRWEB) January 11, 2012
Real Business Solutions (http://www.W2Mate.com), US payroll and 1099 software developer, is helping businesses, accountants, CPAs, professional tax preparers and 1099 reporting service providers comply with IRS 1099 filing regulations for 2011.Through W2 Mate, the W2 1099 processing solution offered by the company, users can print recipient copies on regular white paper, E-File 1099 tax forms with the IRS through IRS FIRE system and generate password-protected 1099-MISC forms in PDF format. The PDF 1099s can then be emailed to recipients and contractors instead of paper copies, which delivers tangible money and time-saving benefits to companies and individuals.
A free 1099 Software trial can be downloaded from the company's website by visiting http://www.w2mate.com/.
W2 Mate W2 1099 software offers support for paper-print and paperless (electronic) wage and information return preparation for W2, 1099-MISC, 1099-INT, 1099-DIV, 1099-R, 1099-S, 1098-T, 1098, 1099-A, 1099-B, 1099-C, 1099-PATR, 1099-OID and associated transmittals (W-3 and 1096 forms).
According to the IRS, any person, including a corporation, partnership, individual, estate, and trust, who make reportable transactions during the calendar year, must file information returns (1098, 1099, 5498, W-2G, or 1042-S) to report those transactions to the government. Persons required to file Information returns to the IRS must also send copies to the recipients of the income. Filers who have 250 or more forms must file these forms electronically through the IRS FIRE System.
For 2011, filers are required to send 1099 statements to recipients by Tuesday January 31, 2012 (some exceptions apply). 1099 reporting with the IRS is due on or before Wednesday Feb 29, 2012 for filers using paper forms and Monday April 2, 2012 for filers using electronic 1099 processing. Form 1096 is not required when filing electronically. Tax payers are mandated to file electronically with the IRS FIRE system if they have more than 250 tax forms.
Using 1099 E-File is secure, easy to use, efficient, fast, flexible and helps save the environment. Any filer of information returns may file their returns electronically. Any corporation, partnership, employer, estate or trust, who files 250 or more 1099 forms for any calendar year, must file their Information Returns electronically. However, if you have less than 250, we encourage you to file these returns electronically. W2 Mate complies with IRS Publication 1220- Specifications for Filing Form 1098, 1099, 5498, and W-2G Electronically or Magnetically. W2 Mate also complies with SSA EFW2 format - Specifications for Filing Forms W-2 Electronically).
Users of popular accounting software like QuickBooks, Sage Peachtree, Sage DacEasy, Sage MAS 90, Sage MAS 200, SAP and Microsoft Dynamics GP can save a lot of money by using the electronic reporting features available inside W2 Mate such as W2 PDF, 1099 PDF, W2 e-File and 1099 e-File.
Meet the 2011 / 2012 1099 filing deadline. Download W2 Mate free demo and print 1099 forms in minutes. Go to 1099 Software Free Download page.
###