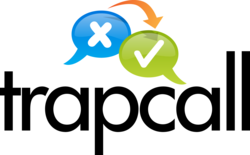 Toms River, NJ (PRWEB) January 09, 2012
TrapCall is proud to announce that its Caller ID unmasking service is now available for MetroPCS, the nation's fifth largest wireless carrier. With this latest expansion, TrapCall is now available to over 8.9 million new Americans who use MetroPCS's low-cost, no-contract cell phone service that covers 90% of America.
TrapCall now supports a total of 9 wireless carriers and all of the 5 largest carriers in the United States, which includes AT&T, Verizon Wireless, T-Mobile, Sprint and MetroPCS, along with Rogers, Bell Mobility, Telus and Fido in Canada. TrapCall also supports home and office landlines in the United States.
TrapCall's revolutionary service, also available as a mobile app, is the only service of its kind in the world that offers its users complete peace-of-mind with their phones, by unmasking blocked, private and restricted calls, and blacklisting unwanted callers. Once TrapCall is activated on a user's phone, any blocked or private calls will be unblocked to reveal the actual phone number of the calling party. TrapCall can also be used to trick blacklisted callers into thinking the number has been disconnected by the phone company, with its number blacklisting feature. TrapCall not only unmasks blocked and private calls, but it's also the only service in the world that can record incoming calls without the need for a second phone number.
TrapCall works by using the conditional call-forwarding feature of a cell phone to send rejected, missed and unanswered calls to TrapCall's own number for unmasking. When a blocked or restricted call shows up, the user simply presses the ignore button on their cell phone and the call loops through TrapCall's system, where it's unmasked and sent back to the caller with the number displayed, along with a text message with the unmasked number. All the while, the caller hears a normal ringtone, oblivious to the fact the called party now knows their true number.
For more information, or to sign up for TrapCall on your MetroPCS phone, please visit: http://www.TrapCall.com/.
###