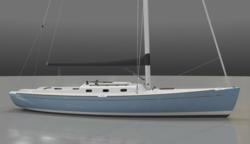 John O'Connor, Project Manager and a Sales Partner for Bluenose Yacht Sales, stated, "We are fortunate to be working closely with S&S on this project who bring decades of experience and a pedigree to the entire design."
Newport, RI and Portland, Maine (PRWEB) January 09, 2012
Bluenose Yacht Sales, one of New England's primary dealers for Beneteau Group's Jeanneau and CNB Bordeaux 60 brands as well as C&C, Legacy, S&S 30, Cabo Rico and E33 is pleased to announce the new Sparkman & Stephens 30 daysailor.
The Sparkman & Stephens 30 originated by Olin Stephens in 1935 with a design called "BABE" and she went on to win off-shore and on-shore races. In 2005, Olin Stephens was asked what design he would like to see rebuilt and reintroduced using today's state of the art manufacturing methods and construction and Olin stated that BABE was one of his favorites.
After several revisions and several years in the making the S&S 30 is now offered for summer of 2012 launch to a few select clients. With a pedigree from S&S that guarantees sailing satisfaction and classic good looks, the S&S 30 fulfills Olin's wishes.
Glenn Walters, managing partner of Bluenose Yacht Sales stated, "We are very excited about this beautiful and more affordable day sailor that has classic lines, beautiful proportions and excellent sailing performances." S&S design staff is working with a high quality domestic builder to insure quality standards are excellent and the new "BABE" conforms to the design criteria as desired by Olin Stephens.
While there are many other competing designs such as the Morris 29, Morris 36, Alerion 33, J100 and the Sabre Spirit, the Sparkman & Stephens 30 has longer waterlines and sail areas for exciting sailing performance with a traditional, classic profile. The interior includes a full head, forward V berth with privacy door, vanity sink, twin settees in the main salon and is powered by a Yanmar Saildrive. Call us for a pdf of full specifications.
S&S "BABE" HISTORY (provided by S&S)
"The yacht design branch of Sparkman & Stephens has a long and well-established history dating back to 1929. With notable designs such as Bolero, Finisterre, and several of the winning America's Cup 12-Metres, the heritage of S&S is diverse. In addition to the well-known large sail and power yachts in the S&S design portfolio, we have also designed icons of family sailing such as the Lightning and Blue Jay. It is from this wide range of previous designs that we have drawn inspiration for the Sparkman & Stephens 30.
Our founder and long-time Chief Designer, Olin J. Stephens II passed away in 2008 at the age of 100. Earlier that same year, our team had been working with him on a design that he saw as his dream project. It was inspired by one of his all-time favorite projects – a 30' wooden sloop built in 1935 for the Miami-Nassau race, Babe. The yacht was cutting-edge for the time, with a plumb bow and "cut-off" stern, as described by Rod Stephens. A well-defined keel and generous sail plan made her a competitive sailing boat, with very simple accommodations and minimal live-aboard comforts. The re-design was to be a traditionally built wooden boat, with double-planked construction and painted canvas decks. Design 0097-c1 was fully developed for a one-off build, with bronze deck hardware and custom portlights. We at S&S, felt the simplicity and back-to-basics approach that Olin took on the Babe project was a rare characteristic in yacht design today, where complex systems, hotel quality comforts, and skyrocketing build costs rule the roost. A return to the basic, reliable, yet beautiful, family daysailer and club racer is something for which every sailor in us is secretly looking. So, we have taken the original concept developed with Olin in 2008 and adapted it for production. Standard FRP construction techniques, quality off-the-shelf hardware, and essential on-board systems, combined with an affordable price tag, are the primary objectives for this modern boat with a classic appeal and excellent sailing performances.
Bluenose Yacht Sales, with offices located in Newport, RI and Portland, Maine serves each client with personal attention to understand your preferences, experience and intended use in order to find the right fit that will deliver years of fun and yacht excitement for friends and family. Bluenose Yacht Sales is committed to "Excellence with Integrity" and long term client relationships rather than excessive size that can compromise quality of service.
Call us to discuss this beautiful S&S 30 or perhaps how we might add value and assist your next new or brokerage yacht purchase OR if you are considering listing your boat. 877 - 695 - 6538.
# # #