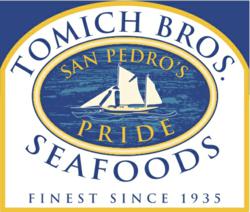 We are thrilled at this nomination - it represents a validation of CounterPoint's hands-on, front-line approach to turnaround investing.
Los Angeles, CA (PRWEB) January 11, 2012
CounterPoint Capital Partners is pleased to announce that the firm has been named a finalist for M&A Advisor's 6th Annual Turnaround Awards, being held January 31 at the Colony Hotel in Palm Beach, Florida.
The firm's acquisition and restructuring of Tomich Brothers Fish Company and Standard Seafood was nominated for Turnaround Deal of the Year in two lower middle market sector categories: Retail Manufacturing/ Distribution and Consumer and Retail Products. CounterPoint acquired Tomich Brothers and Standard Seafood in simultaneous transactions on August 15, 2011.
"We are thrilled at this nomination - it represents a validation of CounterPoint's hands-on, front-line approach to turnaround investing," said Chris Iorillo, Managing Partner, CounterPoint. "Our operating expertise and financial management, coupled with the hard work and dedication of the Tomich Brothers' employees and management team, unlocked the true value of this 75-year old company in a very short time. With this portfolio company on an excellent trajectory, we are looking forward to the next opportunity."
"Although the bankruptcies of MF Global, American Airlines and Borders highlight today's difficult environment, there were thousands of successful turnarounds in 2011 thanks to the energy and ingenuity of the world's leading restructuring and distressed investing professionals," says Roger Aguinaldo, CEO and Founder of The M&A Advisor. "The deal teams represented in our Award Finalists have demonstrated creativity and perseverance in today's challenging climate."
Since 1998, The M&A Advisor has been presenting, recognizing the achievement of and facilitating connections between the world's leading mergers and acquisitions, financing and turnaround professionals with a comprehensive range of services.
CounterPoint was represented by Rob Carlson of Paul Hastings LLP (corporate, M&A, and tax) and Matthew Wrysinski of McGuireWoods (banking). Acquisition and working capital financing was provided by PNC Business Credit.
About CounterPoint Capital Partners
CounterPoint Capital Partners (http://www.counterpointcp.com) is a Los Angeles-based investment firm focused on acquiring lower-middle market companies headquartered throughout the United States and Canada with $10 million to $200 million in annual revenues. CounterPoint looks for complex situations caused by operational, succession, or financial challenges within a company or industry and, by developing a close partnership with management teams and other stakeholders, implements structural and operational improvements to put portfolio companies on a successful trajectory.
About Tomich Brothers
Tomich Brothers is a third generation family owned seafood company located in the Port of Los Angeles. For over 75 years they have been supplying the world with seafood indigenous to California waters. With offloading and processing facilities in Los Angeles and the Monterey Peninsula, Tomich has the capability and the experience to handle perishable fishery products to the highest standards.
About Standard Seafood
Established in 1967, Standard Seafood has been a privately owned seafood wholesaler for over 40 years. Based in San Pedro, CA, Standard purchases fresh and frozen seafood domestically and abroad for processing and distribution to a broad base of restaurants, fish markets, and stores located regionally throughout Southern California.
# # #