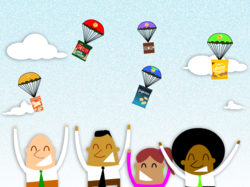 People naturally like sharing things that they enjoy themselves
San Mateo, CA (PRWEB) January 11, 2012
The Betty Mills Company ® an Internet TOP 500 Retailer and the one of the nations' leading B2B suppliers of cleaning, facility, break room and organic snacks today announced the launch of their 'Refer-a-Friend' to Snack Rewards™ program, enabling Betty Mills customers to invite their co-workers, family and friends to enjoy the benefits of their program which rewards credits redeemable for free snacks on each customer purchase.
Betty Mills CEO, Victor Hanna said, "We have added the element of online social sharing to Snack Rewards so that our customers could inform other departments within their Company about our free snacks program. People naturally like sharing things that they enjoy themselves."
The Refer-a-Friend feature also provides bonus Snack Rewards to customers who invite others to the program.
Betty Mills Snack Rewards program provides each and every customer purchase with valuable Snack Reward points redeemable for any of Betty Mills selection of over 2,000 snack and beverage choices including one of the largest online selections of all natural and organic snacks such as Bumble Bars, Food Should Taste Good, Back to Nature, and hundreds more.
About Betty Mills
The Betty Mills Company® is a TOP 500 e-commerce company and one of America's leading B2B suppliers of cleaning, facility, break room and office snacks. Offering 100,000 brand-leading products shipped right to your door from over 55 U.S. warehouse locations.
With Betty Mills everyday low prices and their Double Markdowns® Specials, Betty Mills offers a comfortable and easy online shopping experience for everyone who likes to buy smart and save big! Betty Mills Company's headquarter is located in San Mateo, CA. For more information, please visit BettyMills.com.
# # #