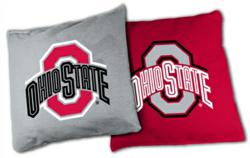 The official team logo is the attractions, bur our customers will really enjoy the quality of the bags.
West Palm Beach, FL (PRWEB) January 09, 2012
Gold Star Games announces its newest product line, cornhole bags. These cornhole bags are designed for the true tailgating fan. Each cornhole bag is officially licensed by the NFL, MLB, NCAA or NHL.
As a self proclaimed "sports nut" company President Rich Spaulding has been in a long lasting love affair with sports and tailgating. As such, he has made it his life's work to bring the best tailgating games and gear to the consumer through the Gold Star Games website.
Spaulding says "I am extremely excited to introduce these cornhole bags to our customers. Our customers are die hard sports fans and these licensed cornhole bags will fit nicely with our most popular selling product – the licensed cornhole games. The official team logo is the attraction, but our customers will really enjoy the quality of the bags. The manufacturer has worked hard to produce these top of the line cornhole bags for a couple years and the proof is in the product."
Many NFL, MLB, NCAA and NHL teams are available for purchase now, with more teams and schools being added later this year.
Gold Star Games offers a very personal customer support process which includes hassle free returns as well as a price match guarantee. Customer satisfaction is extremely important and will always be the number one priority for the company.
Gold Star Games was started in 2008 and is proud to be family owned and operated. Located in sunny West Palm Beach, Florida the company has since reached out to customers in every state as well as in ten different countries! The customer base has exceeded the 10,000 mark.
###