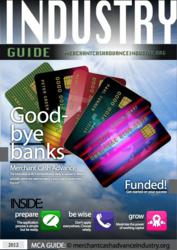 More than a third of all MCA recipients are restaurants or in the food service industry.
New York, NY (PRWEB) January 09, 2012
The MerchantCashAdvanceIndustry.org network is officially live and ready to support small business owners in their search for capital.
Recent federal data shows that loans to small businesses have fallen to a 12 year low. This discouraging statistic has led to a swarm of editorials by media outlets, most of which advance the theory that businesses aren't able to get capital.
But funding is widely available and the new site seeks to educate businesses about the process and their options. MCAs are not loans, but rather purchases of future card revenues. Using data from the Merchant Processing Resource (MPR), approximately 25,000 small businesses utilized MCAs in 2011. As a whole, funding volume is approaching the $1 billion mark annually.
Experienced veterans recently formed MerchantCashAdvanceIndustry.org to create a free and easy opportunity to connect with the most suitable MCA provider. MPR's research indicates that more than a third of all MCA recipients are restaurants or in the food service industry, a group which includes many well known national franchises. As such, this networking site will be an invaluable resource for restaurants.
There are literally thousands of Internet ads for MCA, but only a handful of established funding providers. Finding the right match, let alone a company that can be trusted to follow through, is a challenge. By using MerchantCashAdvanceIndustry.org's free service, weeks of research can be eliminated.
Additionally, anyone who is interested in learning what the process entails can download the new free handbook on the homepage. It features a walk-through of the application process, reveals what questions to ask your account representative, and provides tips to yield the most profit from your advance.
We believe in the MCA product so wholeheartedly, that starting today we'll be rewarding MCA clients with gift cards for their feedback. Just click on the 'Your Stories' tab to learn more. 2012 is expected to be a record-breaking year for the Merchant Cash Advance industry and we expect that bank lending to shrink again. From the point of view of many small business owners, those loans won't be missed. Connect with the company founder, Sean Murray on Google Plus.
###