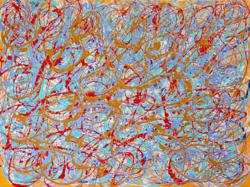 The First Contemporary, Abstract Painting of Leonardo da Vinci for Vip-Art Fair.
New York, NY (PRWEB) January 10, 2012
Artist Greg Herzog Paints First Contemporary Abstract Painting Of Leonardo da Vinci for VIP-Art Fair.
Leonardo da Vinci, whose genius, more than that of any other figure, epitomized the Renaissance humanist ideal, is viewed as perhaps the most diversely talented person ever to have lived.
According to art historian Helen Gardner, "the scope and depth of his interests were without precedent and his mind and personality seem to us superhuman, the man himself mysterious and remote".
Today we are given the gift by artist Greg Herzog of an insight into Leonardo da Vinci that has never been seen before; through the art of COLOR CODING DNA®.
COLOR CODING DNA® is a Quantum Reaction Theory using a geometric mathematical equation, where X# of points represent the makeup of a subject and each degree of expression within the context of each point is color coded and weighted accordingly.
The COLOR CODING DNA® painting process is strikingly similar to the way patterns in Nature evolve. Since it's discovery in the 1960's, chaos theory has experienced spectacular success in explaining many of Nature's processes. A mathematical system can be designed to generate COLOR CODING DNA® trajectories, where the degree of chaos can be tuned. Many natural chaotic systems form fractals in the patterns that record the process.
Greg believes that his authentic concept and technique COLOR CODING DNA® is a contribution to the evolution of art.
For more information go to http://www.vip-artfair.com or E-Mail greg(at)vip-artfair(dot)com
###