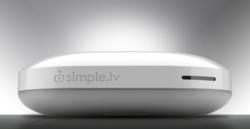 Our hardware and networking expertise combined with Simple.TV's vision, web services and app development, have resulted in a groundbreaking product for digital content consumers." said Maresuke Ishii, General Manager of Buffalo Digital Home Business Unit
Las Vegas, NV (PRWEB) January 09, 2012
Simple.TV today announced at the 2012 Consumer Electronics Show that it has partnered with Buffalo Inc., a leading worldwide provider of innovative network solutions for the home and business, to launch the first DVR designed for the connected TV world. Bringing live and recorded TV to connected devices both inside and outside the home, Simple.TV turns the iPad®, Roku® box, Google TV ™, or any web browser into a full-featured DVR. With the addition of a USB 2.0 hard drive or network-attached storage, Simple.TV users can store thousands of hours of network television for viewing anywhere, anytime.
"We are pleased to be working with Simple.TV to develop the hardware platform for their innovative DVR," said Maresuke Ishii, General Manager of Buffalo Inc. Digital Home Business Unit. "Our hardware and networking expertise combined with Simple.TV's vision, web services and app development, have resulted in a groundbreaking product for digital content consumers."
At the heart of the Simple.TV DVR is the ViXS XCode 4210. With its ability to create adaptive AVC MPEG-4 video streams from a high definition video input, the XCode 4210 enables the Simple.TV DVR to convert broadcast television into highly compressed and flexible video streams that can be seamlessly accessed by the most popular consumer electronics devices, such as the iPad and Roku media streamer.
"We're pleased that Simple.TV and Buffalo Inc. have chosen to work with ViXS on the development of this truly innovative product," said Sally Daub, President and CEO of ViXS Systems Inc. "Simple.TV showcases the power and performance of the XCode 4210 architecture in a cost effective product that is ideally targeted at today's connected consumer."
"We are thrilled to be working with Buffalo Inc. and ViXS Systems Inc. on the development and delivery of Simple.TV" said Mark Ely, CEO of Really Simple Software, Inc., makers of Simple.TV. "With their assistance, we are on our way to bring the best of television to tablets, phones and connected televisions everywhere."
One Sheet
http://bit.ly/simpletv1sheet
Press Kit
http://bit.ly/simpleTVpresskit
About the Simple.TV DVR
Unlike most DVRs, Simple.TV has no traditional analog or HDMI video outputs. Once connected to the consumer's home network, Simple.TV streams content directly to a web browser or to dedicated Apps that users launch on their favorite connected platforms. Simple.TV is developing apps for the iPad, Roku, Google TV and other connected platforms, in addition to standard web browsers. Priced at $149 plus a $4.99/month subscription, Simple.TV will ship in the spring of 2012.
About Buffalo Inc.
With offices in Japan, USA, Germany, UK, Ireland, and Taiwan, Buffalo, Inc. is a leading worldwide provider of innovative network solutions for the home and business - from wireless networking and storage to memory and multimedia devices. Since 1975, Buffalo has proven its commitment to delivering innovative solutions that have put the company at the forefront of infrastructure technology.
About ViXS Systems Inc.
ViXS is a multimedia solutions innovator providing technologies for processing, managing, securing and distributing high quality video and audio allowing seamless control, conversion, and connectivity between many classes and sizes of digital entertainment devices.
ViXS supplies advanced System-on-Chip semiconductors, software solutions and hardware reference designs for the world's top manufacturers of Digital TVs, DVDs, Set-top boxes, Personal Video Recorders, PCs, Network-Attached Storage devices, Residential/Home Gateways, Blu-ray players/recorders, as well as Broadcast and Professional Equipment OEMs.
ViXS is headquartered in Toronto, Canada with global operations and offices in Europe, Asia and North America.  ViXS has filed more than 334 patents worldwide with over 103 patents being issued to date.  Listed for four years running as one of Deloitte's fastest growing North American companies, ViXS is setting new standards in the way digital entertainment is viewed and transmitted across an endless array of multimedia products.
About Simple.TV
Simple.TV is on a mission to bring great broadcast television to connected devices everywhere. Filling the content gap between over-the-top video and traditional broadcast TV, Simple.TV is the go-to device and application combo to record and watch the best television content whether you are at home or on the road. Simple.TV is by Really Simple Software, Inc. For more information about Simple.TV, visit http://www.simple.tv
Press:
Stage Two
John C. Rodriguez 512-748-6175
John(at)stagetwo(dot)com
###