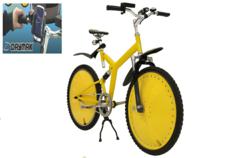 The Shadow Ebike 2.0 converts your Android phone into a complete control system for the Shadow Ebike
Toronto, Canada (PRWEB) January 10, 2012
Aldo Baiocchi, Daymak Inc's V.P. of R&D, is pleased to announce the second version of Daymak's Shadow Ebike, The Shadow Ebike 2.0 Bluetooth. The world's first wireless ebike, the Shadow, is powered by the proprietary Daymak Drive, developed in Canada by Daymak Inc.
"The Shadow Ebike 2.0 converts your Android phone into a complete control system for the Shadow Ebike. Your phone is the key to turning the ebike on and off. The app features a slew of options including: user defined pedal assist modes, top speeds, GPS, odometer, speedometer, trip data, altitude, battery life, and history of all usage" states Mr. Baiocchi. Being the first and only wireless Ebike in the world makes the Shadow Ebike a unique product on the market today, and now with the android operating system it is, an unheard of use of technology. "The Shadow Ebike 2.0 bluetooth is the first wireless ebike with Bluetooth functions. It makes perfect sense for this ebike to have no wires and wireless controls via bluetooth" continues Mr. Baiocchi. He goes on to day "The Shadow Ebike 2.0 will go into production Spring 2012 and will be showcased at the Las Vegas CES show this week."
"The CES show is a great place to showcase our technology. This is the only ebike in the world where the key to turning it on is your phone!" states Baiocchi.
The Shadow Ebike is a leading edge power assisted bicycle with intergrated wireless design, which means that no wires are hanging loose or are in the open avoiding most common failures found in common electric bicycles. For more information please visit http://www.shadowebike.com
CES Event Details: Exhibit Dates: January 10-13, 2012 Location: Las Vegas Convention Center/Las Vegas Hilton/The Venetian Booth Number: LVCC South Hall 4 35622
About 2012 International Consumer Electronics Show (CES)
The Consumer Electronics Association (CEA) is the preeminent trade association promoting growth in the $170 billion U.S. consumer electronics industry. More than 2,000 companies enjoy the benefits of CEA membership, including legislative advocacy, market research, technical training and education, industry promotion, standards development and the fostering of business and strategic relationships. CEA also sponsors and manages the International CES -- The Global Stage for Innovation. All profits from CES are reinvested into CEA's industry services. Find CEA online at CE.org.
About Daymak Inc. Founded in 2001, Daymak Inc. is the #1 seller of electric bikes and scooters in Ontario, Canada, with a distribution of 65 dealers across Canada. It is the proud designer, developer and manufacturer of the world's 1st wireless electric bicycle, the Shadow Ebike and the Daymak Drive controller. Daymak Inc. is driven by passion to create and develop the best consumer-oriented and environmentally light electric vehicles (LEVs).
###