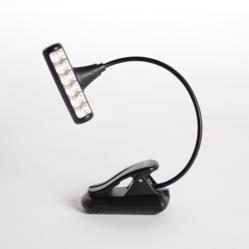 The HammerHead's modern, sleek design with six, super bright LEDs let's you light anything, anywhere.
Santa Barbara, CA (PRWEB) January 09, 2012
Mighty Bright, designer and manufacturer of innovative personal LED lights, announces the HammerHead LED Book Light, its most powerful book light yet. The HammerHead debuts at the 2012 International Consumer Electronics Show, January 10-13, at the Las Vegas Convention Center.
The HammerHead LED Book Light is Mighty Bright's most powerful book light ever—with six super bright and long-lasting LEDs. Use the compact, and portable HammerHead LED to light anything, anywhere.
The HammerHead's modern, sleek design features a distinctive "hammerhead" light bar packed with six, super bright LED lights—enough to spotlight two full pages of any reading material or to cast a full spread of light across any project. The flexible gooseneck holds the light bar firmly in place, brightening any area. The HammerHead's base doubles as a sturdy clip or freestanding base and offers unprecedented flexibility in a light this bright and compact.
HammerHead LED Book Light features:

Six LEDs cast bright white light
LEDs never need replacing
28 lumens of illumination
LEDs last 100,000 hours — no replacement necessary
Precisely engineered optical grade lens spreads light evenly
Sturdy clip grips almost anything, or base can be used free standing
Adjustable gooseneck holds the light in place
Light easily folds for convenient storage
Powered by 3 AAA batteries (included) or optional AC adapter
Available in black, blue and silver
More personal LED lights by Mighty Bright at CES 2012:
eFlex LED Light for eReaders: Designed to perfectly illuminate any eReader, the eFlex LED Light features an innovative clip design that attaches to all eReaders.
LUX Dome LED Task Light: A stylish and modern LED task light that is eco-friendly, utilitarian, and embodies refined luxury. The LUX Dome will never require a replacement bulb.
Encore LED Light: Built for musicians of all skill levels, the Encore 6-LED Music Light is a sophisticated yet compact LED light that delivers the perfect performance every time.
Visit Mighty Bright at CES
Don't miss Mighty Bright at CES 2012 in booth #36177 located in the South Hall's Access on the Go TechZone.
About Mighty Bright
Mighty Bright designs and manufactures innovative LED light productsfor consumers and professionals. Mighty Bright integrates high quality materials and intelligent design with the latest in LED and optical technologies at an affordable price. For more information, contact Mighty Bright: 800.922.3233 or visit http://www.mightybright.com.
###