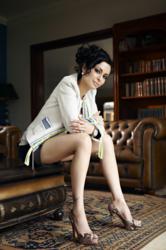 "It was a wonderful evening, and I am very honoured to win such a prestigious award," Faiza says.
(PRWEB) January 11, 2012
Faiza Seth, CEO of Casa Forma received The Hello! Hall of Fame award for Celebutante which was held at the Regal Room in the Trident Hotel, Mumbai, India on November 19th 2011.
Each year Hello's dynamic team and editor Ruchika Mehta take stalk of the path-breakers of the year. After much deliberation and discussion, the jury step in with their list of nominations and offer their votes in favour of the winners...It's never an easy ride, given the plethora of inspiring individuals spanning a nation of 1.2 billion. Therefore, Hello! chooses winners based on both hard work and inspirational qualities that lead the 2011 winners' successes and the constant ability of the winners to innovate, and stay focused on their vision.
Faiza Seth won the 'Celebutante of the Year' Award at Hello's! Moulin Rouge inspired awards gala evening in Bombay. "It was a wonderful evening, and I am very honoured to win such a prestigious award," Faiza says.
After graduating from North-western University in Evanston, Illinois in 2000 with a Bachelor of Arts in Economics, Faiza moved to Hong Kong and worked on the Equity Capital Markets team at Lehman Brothers. After learning the basics of any business - finance - Faiza moved on to start her apparel sourcing and distribution business, Norwest Industries Ltd. in Hong Kong. Faiza continued her education at Stanford University's Graduate School of Business from 2004 -2006. Upon graduation, and after moving to London, Faiza ventured into luxury property development, architectural and interior design through Casa Forma (http://www.casaforma.co.uk). Casa Forma currently has an award winning team of architects and interior designers who focus on both Casa Forma's property development initiatives in super prime locations of London as well as architectural and interior design projects for clients.
Faiza also founded and manages Soham for Kids (http://www.sohamforkids.org), a charity school which takes a holistic approach towards educating underprivileged and orphaned children near Hyderabad, the city of Faiza's birth. Soham for Kids is a school that provides impoverished children a well rounded quality education, nutrition, and healthcare with the aim of helping break the cycle of poverty by giving these children the skills they need to provide for themselves and their families in the future.
Faiza is excited to be part of the energy and positivity in India through Soham for Kids and Casa Forma which has completed luxury residential projects in New Delhi as well as other parts of Europe, Hong Kong, and other emerging markets.
###