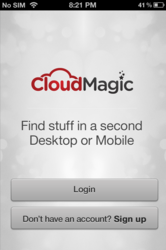 CloudMagic - Find stuff in a second. Desktop or Mobile.
Santa Clara, California (PRWEB) January 12, 2012
CloudMagic is a search engine for personal online data. It lets one search across all their personal data (emails, tweets, docs, contacts, calendar, etc.) through a simple search box. It was introduced for desktops and everyone loved the ease and speed at which they could access their personal online data. It not only saved time, but searching was no longer frustrating. James Fallows from The Atlantic went on to say - "If you're using Gmail, and not using CloudMagic, you're shortening your effective lifespan, plus sapping the economy, by wasting your precious time."
Today, CloudMagic announces the availability of apps for iPhone and Android devices. One must agree that search on mobile is yet rudimentary. On mobile it's painful to look for emails, docs, events, contacts, etc. Either it takes a lot of time to find or one gives up searching out of frustration. CloudMagic for mobile should put an end to it.
The team behind CloudMagic has worked hard to keep the time taken to search under one second. Hence the tagline - Find stuff in a second. Desktop or Mobile.
CloudMagic for Mobile – iPhone App Store, Android Marketplace
CloudMagic for Desktop – Chrome Web Store, Firefox Add-ons
# # #