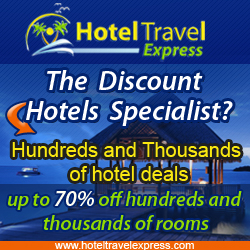 Don' t miss special events in Dubai with cheap hotels in Dubai by HotelTravelExpress.
Perth, Western Australia (PRWEB) January 15, 2012
If there is one city on the planet that is the dream of every tourist, then it will be Dubai in the United Arab Emirates. There are various reasons for this but one that cannot be denied is that there are so many amazing events going on in this glorious Arabian settlement. The month of January is also one that promises lots of fun and excitement for tourists and local residents alike.
One of the events lined up in Dubai this month include the prestigious Dubai International Racing Carnival. For lovers of equestrian sports, this regal event kicked off on the 5th of January and will continue until the 10th of March, 2012 thus offering visitors ample time and opportunity to enjoy the spectacle as they lodge at cheap Dubai hotels.
Apart from sports and entertainment, Dubai is also a place for serious intellectual discourse. From the 31st of January to the 2nd of February, there will the United Arab Emirates Dental Conference & Arab Dental Exhibition (AEEDC Dubai 2012) and it promises to be one of the most interesting medical events in the Persian Gulf in 2012.
The month of January also promises to be very enticing at the Downtown Burj Steps where visitors can enjoy the Bag of Fortune Gold Raffle. It kicked off on the 5th of January and will end after a month. The raffle has been described as the paradise of gold shoppers, and with many instant prizes, Downtown Burj Steps will be a crowd puller.
By enjoying the services of HotelTravelExpress, visitors can have access to Dubai hotels at rate that are quite pocket-friendly. The month of January is one that promises to be very interesting and fun-filled. HotelTravelExpress welcomes everyone to the angelic city of Dubai and offers all guests, tourists and visitors with the most affordable rooms, chalets, inns and guest houses in town. With HotelTravelExpress, traveling and staying in Dubai this January has just been redefined. The website for the company (http://www.hoteltravelexpress.com) is always open with the latest information on bookings, discounts, rates, bonanzas and even general tourist details.
For more information and details on hotels in Dubai, please kindly log on to http://www.hoteltravelexpress.com or email info(at)hoteltravelexpress(dot)com.
# # #