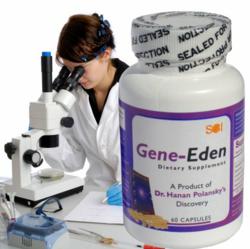 Rochester, New York (PRWEB) January 11, 2012
The Center for the Biology of Chronic Disease (CBCD) is happy to report that the Gene-Eden website has recently been revised to reflect the important distinction between active viruses and dormant viruses, and specifically, active HPV and dormant HPV.
The FDA writes on its own website that, "Some viruses…can enter a state known as latency in which the virus is not being replicated. In the latent state, the virus does not cause disease."
Active viruses are very different from dormant viruses or latent viruses, as scientists call them. According to the FDA, active viruses cause disease; dormant viruses do not.
So, if dormant viruses are not a disease, why bother with them?
Two reasons. First, because they can turn into active viruses, those that cause disease. Scientists call the awakening of the dormant virus "reactivation." Second, because they are genetic parasites.
According to Dr. Hanan Polansky, dormant viruses microcompete with human genes for scarce genetic resources, and as a result, can drive the human genes to malfunction. In fact, according to Dr. Hanan Polansky's highly acclaimed "Purple Book," dormant viruses, in high concentration, are the cause of many major diseases, such as cancer, heart disease, diabetes, arthritis, and many more.
So how can one target dormant viruses?
It's not easy. The two possible ways to attack dormant viruses are vaccines and antiviral medications.
When it comes to the Human Papillomavirus (HPV), the vaccine is Gardasil. There is no antiviral medication against HPV. Gardasil, the HPV vaccine, teaches the immune system to recognize and destroy invading active human papillomaviruses (HPV). Gardasil protects against 4 types of the active HPV virus, two that cause cervical cancer, and two that cause genital warts. However, Gardasil does not protect against other types of HPV, and it does not help if someone is already infected. Specifically, it does not help against dormant HPV viruses.
So, what can one do today against dormant HPV viruses, before a vaccine, or an antiviral drug become available?
One possible answer is Gene-Eden-VIR, a natural remedy that boosts the immune system against the dormant HPV virus.
Most people may wonder whether Gene-Eden-VIR is an affordable, safe and effective HPV remedy.
In regard to affordability, Gene-Eden-VIR is sold exclusively online through the gene-eden.com website. A bottle costs $34.99 and includes a month's supply of Gene-Eden-VIR.
In regard to safety, according to polyDNA, the company which developed Gene-Eden-VIR, in over three year of being on the market, there have been no reports of side effects. In addition, each bottle is GMP certified, which means that the product is keeping good manufacturing practices as outlined by the Food and Drug Administration (FDA).
In terms of effectiveness against dormant HPV viruses, Gene-Eden-VIR capsules contain a patented formula of five natural ingredients including Camellia Sinensis Extract, quercetin, licorice extract, cinnamomum extract, and selenium each at a uniquely selected dose. These ingredients were selected through a scientific method developed by Dr. Hanan Polansky. The method is based on electronic and manual analysis of thousands of scientific and medical papers published on the topic of research.
The abstracts of these scientific papers are available on pubmed.gov.
"Gene-Eden combines several proven substances that work harmoniously to help boost the body's own immune system or have other antiviral properties. The scientific data with regard to the immune enhancing and antiviral properties published in reputable sources on each individual compound in the Gene-Eden formula is impressive. Use of this product clearly has scientific merit based on published material." – Dr. Norman Cohen, MD
To learn more about Gene-Eden-VIR, the HPV remedy that boosts the immune system against the dormant Human Papillomavirus (HPV), and which is based on thousands of scientific studies, please visit http://www.Gene-Eden.com.
About the CBCD
The Center for the Biology of Chronic Disease (CBCD) is a research center recognized by the IRS as a 501(c)(3) non-for-profit organization. The mission of the CBCD is to advance the research on the biology of chronic diseases, and to accelerate the discovery of treatments for these diseases.
The CBCD published the "Purple" book by Dr. Hanan Polansky. The book presents Dr. Polansky's highly acclaimed theory of microcompetition, which explains how the DNA of latent viruses causes many major diseases, including cancer, heart disease, obesity, diabetes, arthritis, and many more. Dr. Polansky's book is available as a free download from the CBCD dot net website.
###