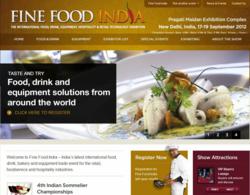 We are excited about the success of our products in our global food portfolio and anticipate continued expansion through launches and acquisitions.
Portland, ME (PRWEB) January 11, 2012
Diversified Business Communications expanded its global food portfolio into India with the launch of Fine Food India in New Delhi in December 2011.
The event brought together 138 exhibitors from seventeen different countries and included renowned international brands from organizations such as Sopexa France, Austrade, Southern United States Trade Association, Dabon International, Foods and Wines of Spain, and The Tree of Life. The 3,445 attendees not only had access to the exhibit floor but were educated and entertained by the Business Forum, the Food Theatre, the Drinks Theatre, the Bocuse d'Or Chef Championship and the 4th Indian Sommelier Championship.
"Diversified is ecstatic with the market response to Fine Food India," commented Matthew Pearce, Managing Director of Diversified Exhibitions Australia, "Over half of the 2011 Exhibitors have already committed to our 2012 show."
With the launch of Fine Food India, Diversified is expanding the 28 year-old Fine Food brand outside of Australia/New Zealand for the first time. The flagship event, Fine Food Australia, is Australia's largest international food and hospitality event, bringing together over 1000 exhibitors from 35countries.
Diversified's food portfolio now includes over 25 face-to-face events and a number of supporting print publications and eMedia sites. The events are held in North America, the UK, Europe, Asia, Australia and India.
Diversified produces the world's largest seafood events in Brussels and Boston. After a successful launch of the Asia Seafood Exposition, an event co-located with Diversified's Restaurant & Bar event in Hong Kong, the company recently announced the launch of its newest seafood event, Seafood Barcelona, which will hold its inaugural event in October 2012.
Diversified has a broad portfolio of products serving specific segments of the food industry, including the world's largest kosher food event, Kosherfest, Natural & Organic Products Europe, and lunch! In 2012, these brands will expand their reach with the launch of Natural Products Scandinavia in Sweden and the launch of lunch! in several Australian cities.
While the majority of Diversified's food events focus on bringing together buyers and sellers, the organizer operates Australia's largest consumer food shows. Each year, they execute five Good Food & Wine Shows, attracting over 125,000 Australians passionate about food.
"We are excited about the success of our products in our global food portfolio," commented Nancy Hasselback, President & CEO of Diversified Business Communications, "and anticipate continued expansion through launches and acquisitions."
Diversified Business Communications, based in Portland, Maine, US provides information and market access through face-to-face events, publications and online. In addition to the food industry, Diversified serves industries including: medical and health care, oil and gas, technology, and business management. Diversified operates divisions in Australia, Hong Kong, India, the UK and Canada. For more information, visit: http://www.divbusiness.com.
###