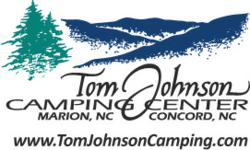 "Tom Johnson Camping Center RVs can provide our customers with improvements in many areas of their lives,"
Marion, NC (PRWEB) January 09, 2012
Tom Johnson Camping Center announced today the ability to assist consumers in meeting most common New Year's Resolutions. The wide range of products available from Tom Johnson Camping Center can alleviate the stress and struggle normally associated with achieving the common resolutions to save money, strengthen family bonds, get healthy, reduce stress and travel more.
"Tom Johnson Camping Center RVs can provide our customers with improvements in many areas of their lives," said Gary Stroud, Vice President. "We see the results most when we interact with our customers during the annual customer appreciation BBQ."
Many common New Year's Resolutions solved with a Tom Johnson Camping Center RV include:
Save Money – Studies have found RV travel to be up to 59% less expensive than comparable forms of travel, even with the cost of ownership included.*
Strengthen Family Bonds – The majority of RV owners polled stated that couples who RV together develop stronger bonds and families are more able to spend quality time together when they travel in an RV.**
Get Healthy – 67% of respondents feel that traveling by RV allows you to be more physically active.**
Reduce Stress – Most owners polled stated that RVing provides an escape from everyday pressure and stress.**
Travel More – There are thousands of campgrounds nationwide and hundreds in the Carolina's, including at Tom Johnson Camping Center, allowing you to travel frequently on your own schedule including quick weekend trips.
"Tom Johnson Camping Center offers hundreds of RVs with prices for a new RV as low as around $6,000 and in weights that begin in ranges towable with a minivan," said Stroud. "Our selection offers everything from comfortable camping in a pop-up to extreme luxury in a large motorhome. Coupled with the region's largest dedicated RV service center, parts stores and camping and you can see that we are able to assist with meeting these New Year's Resolutions."
Founded in 1967, Tom Johnson Camping Center, conveniently located in Concord and Marion, North Carolina, is the inaugural recipient of the Dave Altman Number One RV Dealer Award. A Blue Ribbon award-winning dealership, Tom Johnson Camping Center is among the top-ten recreational vehicle dealerships nationwide. With expertise in sales, service, parts and rentals, Tom Johnson Camping Center offers a comprehensive selection of motorhomes, fifth wheels, travel trailers and fold downs.
For additional information on the Tom Johnson Camping Center, visit http://www.tomjohnsoncamping.com or connect with them on Facebook at facebook.com/tomjohnsoncamping.
Contact: Mark Eisenhart, Tom Johnson Camping Center, 888-450-1440, meisenhart(at)tomjohnsoncamping(dot)com
*Cost comparison based on 2008 PKF Consulting Study
**Respondent information based on 2010 Harris Communications RV Perceptions & Purchase Motivators study.
###