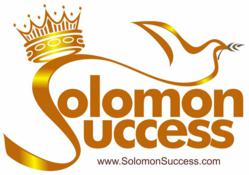 (PRWEB) January 10, 2012
Solomon Success, the popular organization for Biblical investment tips, advises Christian investors to ignore unreliable human tendencies and learn God's investment plan for prudent wealth building.
As human beings, natural impulses tend towards worry. Unfortunately, worry destroys resolve. Even for the most Biblically-grounded investor, it's tempting to panic in these troubled economic times. The natural instinct for any investor at this point in history is to pull the plug, hit the panic switch and pull his or her funds from the stock market immediately. Solomon Success believes that's the wrong thing to do.
Knee jerk investing never leads to success—especially in the stock market. The Christian investor must remember that the vast majority of Wall Street investors are like cattle, following buy/sell trends set by a small group of investors. Often the news media—whether the top story of the day is another revolution in the Middle East or a natural disaster—informs the stock market for unfathomable reasons.
If a Christian investor constantly checks your portfolio earnings, wondering if today's top news story is indicative of the imminent wiping out of your portfolio, then the prescription is a healthy dose of wisdom from God.
The Bible commands Christians in the Book of Proverbs not to nurture a fear of disaster or ruin. In addition, Luke commands Christian investors to be on guard against desire and greed. Those two commandments are key when it comes to Biblical-based investing.
Greed is not good for the Christian investor. It is better to nurture the principles set forth by God to master natural human impulse. Biblical investing looks at the long term. Today's market upheaval will not last forever. Even if the market is headed for disaster, God is in control. The Christian should plan investments with diligence and patience, resisting panic and impulse that will separate man from wealth.
Lou Dobbs, Jim Cramer and other business channel showmen are big budget TV blowhards, hired more for charisma than expertise. God's wisdom in investment decisions always results in long term life fulfillment and financial success. Review your investments quarterly, and don't let panic rule the day. Take control of your wealth, resist impulse, and invest with prudence and wisdom.
About Solomon Success
Solomon Success is dedicated to the timeless wisdom of King Solomon and the Proverbs in order to maximize one's business and life. It has been said that everything his hands touched prospered. To our advantage, we can find King Solomon's financial strategies in addition to many life philosophies documented in biblical scriptures. With interviews based on investing according to timeless biblical principles, the Solomon Success Show offers a fresh breath of air in a world that too often ignores the wisdom of the ages. For more information, visit Solomon Success online.
###