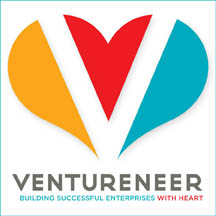 Times change, markets change, technology changes. Small business owners need to keep learning if they want their businesses to thrive.
New York, NY (PRWEB) January 10, 2012
Owning a small business means constantly looking for new ideas to save money or increase sales. Ventureneer is offering six new, free webinars that cover topics from avoiding deadbeat customers to free marketing ideas. Yes, all six are free, taught by experts in their fields, and are chock full of practical information, not just theories.
Each webinar is a stand-alone class so participants can take any number they'd like. After all, they are free. Each class lasts one hour.
"Times change, markets change, technology changes. Small business owners need to keep learning if they want their businesses to thrive," says Geri Stengel, founder of Ventureneer.
The series of free webinars starts with Time Management for Busy Business Owners on January 18, which will have useful tips for managing time both at home and at work. It will be presented by Laura Jacob, president of Pro Way Development.
Next up, on January 23rd, Dont' Let Slow- or No-Pay Customers Ruin Your Business. It will be presented by debt collection expert Michelle Dunn, who knows how to identify deadbeats and how to keep them off the accounts receivable ledger.
Grow Your Business Through Certification and Contracting on January 24th will be of interest to women and minority business owners who want to be certified as such for government contracts. It will be presented by Clovia Hamilton, a specialist in government contracting.
Those looking for new, free ways to market will want to sign up for 100 Free Marketing Ideas for Small Businesses on January 24. It's a look at how to find and use free -- or nearly free -- marketing methods, both online and traditional. The online seminar will be presented by Tara Jacobson, a long-time marketing consultant and trainer.
The Next Revolution Is In Your Pocket on January 25th is an eye-opener about the power of mobile devices -- smartphones, tablets, netbooks -- and their effect on everyone's business, especially on customer service. Entrepreneur and networking guru Peter Shankman will present some revolutionary ideas for both online and brick-and-mortar business owners.
To end the monthy, Jason Hutchins, IT consultant and entrepreneur will talk about Small Business, Nonprofit Savings, Security, Scalability with Cloud-based Email on January 31. It may sound technical but it's really about saving money.
For more information or to register, visit Ventureneer's webinar page.
About Ventureneer
Ventureneer connects values-driven small business owners, social entrepreneurs, and nonprofit leaders with the knowledge they need to make the world a better place and to thrive as businesses. At Ventureneer, entrepreneurial and nonprofit training and advice are practical, accessible, and affordable. Ventureneer blends traditional, formal instruction with informal, peer learning. You can learn new skills, collaborate with peers, develop solutions to your real-world problems, get one-on-one help from experts, and access the information you need to make better decisions for your organizations.
###