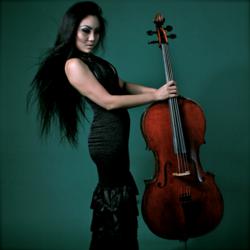 The partnership (with Magic Rosin) was natural. I love the quality and purity of the Magic Rosin formula...
Minneapolis, MN (PRWEB) January 10, 2012
It seems superstar cellist, Tina Guo, is everywhere these days. One of the busiest cellists performing today, her list of accolades is already so astoundingly long, and includes the who's who of almost every musical genre, one might be surprised to learn she's only 26 years old.
Also an artist, photographer and designer, Tina is now partnering with Magic Rosin, retailer of premium pine rosin for violin, viola, and cello, lending her styles to the The Tina Guo Line of Magic Rosin. The Tina Guo Line of Magic Rosin features images of Tina Guo, art and photography by Tina Guo, and an industrial line with steampunk rosin designs. The complete Tina Guo Line can be found at http://www.magicrosin.com/tinaguo.html
Tina Guo's wide and varied career includes solos on the acoustic and electric cellos and the chinese instrument erhu on the soundtracks of Sherlock Holmes, Iron Man 2, Diablo III, CSI:NY, Red Riding Hood, and many more. She's shared the stage with Stevie Wonder, Peter Gabriel, Josh Groban, John Legend, LeAnn Rhimes, Chris Isaak, Il Divo, and Michael McDonald.  She was recently featured as soloist on electric cello and erhu in a sold-out concert for Dreamworks with Hans Zimmer and John Powell of music from Kung-Fu Panda 2, Pirates of the Caribbean, Shrek, and many other blockbuster movies.
She performed at the Grammy's with the Foo Fighters, at the MTV Movie Awards, American Idol, and with Brazilian guitarist Victor Biglione in a Jimi Hendrix Tribute Concert at the Copacabana Palace in Rio de Janiero.  She was featured on New Jack Swing Legend Al. B Sure's new single, "I Love It" and appeared with him in Billboard Magazine. .  
As a classical soloist, Tina has appeared with the San Diego Symphony, the State of Mexico National Symphony, the Thessaloniki State Symphony in Greece, the Bari Symphony in Italy, the Petrobras Symphony and the Barra Mansa Symphony in Brazil, and the Vancouver Island Symphony. Tina has toured Mexico three times, performing the Shostakovich, Dvorak, and Saint-Saens Cello Concertos. She's performed with violinist Midori Goto in Dvorak's American String Quartet at Walt Disney Concert Hall.
Tina is currently performing with the Michael Jackson THE IMMORTAL by Cirque du Soleil World Tour, featured as the electric cello soloist.  
With her busy performing career, Tina Guo requires a rosin that meets the demands of her rigorous playing schedule, one that's dependable and can be used in playing all genres of music. "The partnership (with Magic Rosin) was natural. I love the quality and purity of the Magic Rosin formula, it's just the right amount of sticky and smooth. I also wanted to incorporate different designs, both more alternative and conservative, and plan on developing many more. It's not just rosin, it's collectable, useable art."
Magic Rosin is a professional grade premium rosin for violin, viola and cello, formulated from only purified and modified pine rosins with no other ingredients or fillers giving it a sound professionals describe as clean and even. Along with the instrument and the bow, rosin is one of the most important tools necessary for playing a string instrument. Rosin has traditionally often included dyes, waxes and fillers, giving it a dark and often cloudy appearance.
Magic Rosin's purity makes it almost clear, allowing the company to bring to the market for the first time rosins with a different look, including holograms, designs and sparkles. Magic Rosin is also customizable with customer photos for promotion and advertising or just for fun. No sparkles or colors are in the actual rosin, just on the paper below. More information about Magic Rosin can be found at http://www.magicrosin.com
###
Sarah West, developer of Magic Rosin, describes the recent partnership with Tina Guo, "We're thrilled to be working with Tina. She's a wonderful musician and instrumentalist. She's also a really interesting person. Not only is she a cellist, she's a composer, writer, photographer and artist. Her designs are beautiful and edgy and lend a touch of hip to Magic Rosin.  And as a teacher, it's wonderful to hear some of her young fans describe the different ways she's inspired them"
Currently there are 7 designs in the Tina Guo line of Magic Rosin. 
Magic Rosin comes in two sizes: medium and mini. Dealer and Distributor pricing and customization is available.
For more information about Magic Rosin, please visit http://www.magicrosin.com or call 1-877-58-MAGIC.
Sarah West, cellist and developer of Magic Rosin, studied at the Juilliard School of Music and at the University of Minnesota. In 2004 she was honored with the Master Studio Teacher/Teacher of the Year award by the Minnesota Chapter of the American String Teacher's Association. She lives and works in Minneapolis, Minnesota, teaching, performing, and making rosin.
Magic Rosin
Sarah West
P.O. Box 18563
Minneapolis, MN 55418
http://www.magicrosin.com
http://www.facebook.com/magicrosin