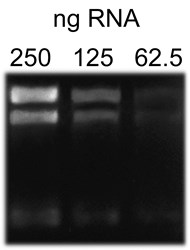 Solon, OH (PRWEB) January 18, 2012
AMRESCO's Rapid Formaldehyde-Free RNA Gel Kit is optimal for labs requiring occasional or frequent denaturing RNA electrophoresis. The kit works with standard electrophoresis equipment and may be safely used on an open benchtop and subsequently disposed of in common trash receptacles. In contrast to formaldehyde-free gels containing glyoxal, AMRESCO's kit does not require extended sample incubation steps or recirculation of running buffer. The Rapid Formaldehyde-Free RNA Gel Kit delivers high quality results twice as fast as conventional formaldehyde gels while offering improved safety for both lab personnel and the environment.
Analysis of RNA integrity is typically assessed by visual inspection of the sample on a denaturing formaldehyde gel. Formaldehyde, however, is a toxic and carcinogenic substance that gives off noxious fumes, restricting its use to fume hoods and requiring special hazardous waste disposal. Formaldehyde gels are commonly visualized with ethidium bromide, a mutagenic dye that also requires careful handling and disposal. As an alternative to conventional formaldehyde RNA gels in RNA electrophoresis, AMRESCO, LLC developed the Rapid Formaldehyde-Free RNA Gel Kit.
Safer and faster performance of denaturing RNA electrophoresis is achieved using AMRESCO's Rapid Formaldehyde-Free RNA Gel Kit. The kit provides a non-volatile substitute for formaldehyde that effectively eliminates both RNA secondary structure to ensure optimal sample resolution, and the necessity of a fume hood for gel casting and electrophoresis. The Formaldehyde-Free RNA Gel Loading Buffer contains a non-mutagenic RNA dye, which visualizes samples immediately post-electrophoresis using standard UV transillumination and a green filter (500 – 600 nm) for detection of bright green bands. The sensitivity of the dye allows detection down to approximately 60 ng of RNA. Specially formulated gel solution and running buffer in the kit enable electrophoresis at twice the conventional gel voltage, thereby reducing electrophoresis time. RNA can be resolved effectively in as little as 15 minutes on a 1% agarose mini-gel.
For more information about the Rapid Formaldehyde-Free RNA Gel Kit or any other AMRESCO products, visit http://www.amresco-inc.com or call 1-800-448-4442.
AMRESCO is a manufacturer and supplier of high quality biochemicals and reagents for molecular biology, life sciences, proteomics, histology and clinical areas of research. The company is ISO certified and has QSR compliant facilities to ensure customers receive the highest quality products.