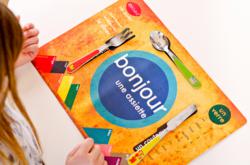 The highly practical, wipe clean mat is fun to use as well as being an educational product.
(PRWEB UK) 10 January 2012
Young children are always keen to learn. Whether spellings, songs or times tables, the best way is to encourage them with routine, practice and regular, subliminal exposure to the subject, and learning a foreign language can be successfully achieved in exactly the same way.
Idioma, an innovative new language based design company, has launched its first product a 'world language mat' as a way for all family members to familiarise themselves with easy to learn, basic vocabulary. Available in a choice of four different languages, the language mat is creative, colourful and durable.
Partner Halle Banks explains: "Meal times often symbolise family time and an opportunity for the mats to be used as a prompt for everyone to have a go at speaking another language on a regular basis."
Halle continues: "For early learners it is a fun and simple product that can support the language learning they will go on to do at school, giving them confidence in reading and speaking new words and familiarising themselves with the different sounds."
The strikingly colourful mats are double sided with one side in English and the other in Spanish, French, German or Italian. They are simply designed in the style of a 'place setting' with an outline of a plate, knife, fork, spoon and a place for a glass. At the bottom are colour blocks and listed down the side are the numbers from one to ten.
Designer Seth says: "The highly practical, wipe clean mat is fun to use as well as being an educational product. Children will learn how to set a place at the table and family members can take it in turn to describe the colours they see, name their cutlery, count the number of food items on the plate and all in a new language."
The World Language Mat is a perfect way to introduce children to the joy of foreign language learning in a way that will inspire and engage for a lifetime.
For more information on Idioma and its products visit the website http://www.idioma.eu.com or 01473 760 180 or email info(at)idioma.eu(dot)com.
###