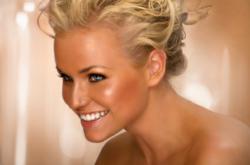 The world's foremost authority on natural nail care.
(PRWEB UK) 10 January 2012
The Hologram Chic duo is brand new and limited edition from Jessica Cosmetics, it comes with an Aqua Base coat called Retro Revival and a an amazing silver linear holo called Disco Diva. The colours work by clever technology based on layering the two colours to achieve extraordinary results. First coat Retro Revival base coat onto the nail plate, then layer one to two coats of Disco Diva on top for a dynamic hologram-silver finish.
Retro Revival is great for matte and suede polishes. It helps with dragging and bald spots. If you like to use nail foils than this works really well as a top coat for them. No wrinkling or dulling.
Thanks to the last three decades of taking care of Hollywood's elite fingers and toes, Jessica Vartoughian has revolutionised the nail industry. Jessica is considered the world's foremost authority on natural nail care as she considers artificial or acrylic nails "vulgar". She has invented the French manicure. Jessica also created specific treatments for each type of nail: damaged, dry, brittle or normal.
Since 1992 Jessica Vartoughian has had a London presence. Jessica nail treatments can be booked at the Sanctuary, Covent Garden, Ultimate Spa on Westbourne Grove and Spa Illuminata on South Audley Street.
The Romanian-born Vartoughian first arrived in America at the age of 16 and she didn't speak a word of English. Beauty courses were the easiest way to learn English and train in the beauty industry at the same time.
At nail technician courses Jessica Vartoughian found she had a real gift for treating nails.
Sources:
Weboptimiser News: http://weboptimisernews.com/
Beauty Training: http://www.beauty-training.co.uk/
###