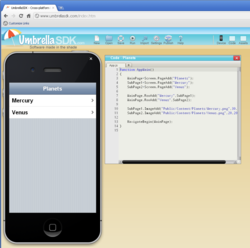 The entire development kit runs in the browser. Everything you need to create an app for the app store - under one umbrella.
Dallas, TX (PRWEB) January 11, 2012
Zimusoft Inc., already the provider of mobile software libraries used by thousands, has released the first fully cloud-based mobile software development kit. This means there is nothing to install to get started - everything runs inside the browser - even the onscreen simulators used to test apps. The kicker is that apps written at UmbrellaSDK.com run on iPhone, iPad and Android phones and tablets.
This is all made possible by the new HTML5 standards that have elevated Javascript to what many believe will be the most popular programming language in the world. Why? Because it's easy and it's cross-platform. Zimusoft is the first to fully exploit the advantages for mobile devices. Every developer would prefer to write a single app that would run on both iPhone and Android devices. The compatible middle ground is the new Javascript - it's fast and easy to understand. UmbrellaSDK.com provides the complete toolkit to take an idea all the way from inspiration to app store.
"We are thrilled that high school students are getting the science and technology exposure they need by signing up for a course that will teach them how to write an iPhone game.", said Dave Edwards, the software architect for UmbrellaSDK.com. "We knew that students would run with mobile technology if we could make it accessible to them. Our goal is to put the cookies on the bottom shelf."
UmbrellaSDK.com is not just for students. Professional developers will embrace a solution that lets them get their apps tested and running quickly. No one wants to focus on cryptic coding details. Zimusoft created this software from the ground up to make it easy to express what an app should do - and allow both iPhone and Android to understand those instructions. Everything a developer needs to create an app for the app store is here under one umbrella - hence the name. At a cost of only $9.95/month, it's affordable for everyone.
After envisioning a 6 week 'Introduction To Programming" course that could be inserted into any high school technology class, Zimusoft's Dave Edwards realized that the biggest barrier was the development tool kit. Installing Apple or Google tools requires hundreds of megabytes on every computer in the school's PC lab. This would not only be expensive, it would take students 6 weeks just to begin to learn the tools. Since UmbrellaSDK.com is fully cloud-based, there is nothing to install. Students begin programming on day one with a single line of code: ImageAdd - which will put an image on the screen. Students can run their app in their own phones immediately since the app is already wirelessly available in the cloud. Ironically, Apple's tools require that wireless phones must be wired via USB to test apps - as do the Google tools for Android.
"We want to utilize income from developer subscriptions to help make UmbrellaSDK.com available to every high school in the nation", the company stated. Teachers should contact cole(at)zimusoft(dot)com for details.
Programmers and students should go to UmbrellaSDK.com and click "Take a Tour" to see how easy it has become to create mobile apps. The subscription price is only $9.95 per month and includes private cloud storage space for your images, sounds and code. The company is preparing an Umbrella App Showcase to help users promote their apps written using UmbrellaSDK.com. Email support(at)zimusoft(dot)com to have your app considered to be featured in the app showcase.
###