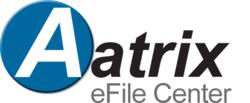 We have spent millions of dollars and years of effort to make the Aatrix solution simple to use, comprehensive in nature, an imminently affordable.
(PRWEB) January 11, 2012
Aatrix Software, Inc., a leading W-2 eFile provider announces the Complete 1099 eFiler, a web-based 1099 filer. With a single selection, the Aatrix eFile Center will Print & Mail Recipient 1099s, file Fed and State 1099s, 1096s and State 1099s. Businesses can eFile 1099s using the fed 1099 efile download as well as manual entry. The Aatrix Complete 1099 eFile Solution is currently integrated into more than 20 of the most popular payroll solutions in the US and is used to process nearly a million 1099s annually. This solution makes this proven process to all businesses.
Aatrix supports all state and federal Payroll Reporting Forms including US territories. Aatrix provides plain paper printing, eFiling, and compliance services for State and Federal W-2s, 1099s, Unemployment, New Hire, and Withholding Reports currently available to more than 200,000 businesses as a fully integrated oem product within their payroll software. The introduction of the Aatrix Complete Internet 1099 eFile Service will expand this availability to all businesses in the US.
eFiling continues to grow
As state and federal agencies continually move to electronic filing, the number of businesses required to eFile W-2s/1099s continues to grow.
1099 processing is a forgotten feature in many accounting solutions. 1099s can be every bit as onerous a task as W-2 filing, yet many software providers do not offer a comprehensive method to meet the increased filing requirements of 1099s.
The Aatrix eFile Center offers the most comprehensive eFiling solution for W-2s and 1099s in the country. "We have spent millions of dollars and years of effort to make the Aatrix solution simple to use, comprehensive in nature, an imminently affordable."
Data Options
Businesses have two options for entering their data into the 1099 eFiling Service
1. Using an existing Fed electronic 1099 export file from their AP software
2. If they do not have any existing 1099 data export file they can manually enter recipient data into the grid.
Reviewing the 1099 Data
The 1099 Boxes are displayed in a grid which functions like a spreadsheet with sorting, copy, paste, etc. Users are able to review employee data in the spreadsheet, adding or adjusting data as needed.
1099 Processing Wizard
After customers have reviewed all of their data in the grid, a 1099 processing wizard will appear to select the level of service to eFile your 1099s.
The Complete eFile Service allows customers to eFile all of their W-2s in one shot including:

Print and Mail Recipient Copies by the Aatrix eFile Center
File Fed 1099s and 1096
File State 1099s
Pricing
The Aatrix patented process (#7,171,165 ) is simple and affordable. The cost of eFiling State and Federal copies as well as having recipient copies printed and mailed is $1.79/recipient.
Availability
The free software and additional information is available at: https://www.aatrix.com/1099-efilingservice
Aatrix Software, Inc.
Located in Grand Forks, ND, Aatrix Software has been developing innovative accounting software solutions since 1987. Originally founded to develop Macintosh accounting and payroll applications, Aatrix's Electronic Forms Division has established itself as a leader in payroll tax forms for Windows®. Aatrix provides Electronic Payroll Reports and eFiling for Windows® accounting software. Aatrix's finance software has received numerous awards, including Software Digest's highest overall rating and Home Office Computing Editor's Pick.
# # #