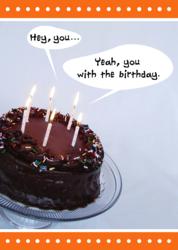 Kansas City, Mo. (PRWEB) January 09, 2012
Hallmark today announces the winners in its recent card-creation contest, "Watch What You Say … Again!" Greeting card design and writing hopefuls were invited to create a funny birthday card to send to anyone, but with a new twist! Entrants weren't allowed to use certain words – Old, Special or Party.
Contestants submitted their creations in November. The 24 winning designs will be sold on Hallmark.com beginning Jan. 9. In-store winners will be announced in May 2012 and will be featured where ever Hallmark products are sold starting in June 2012. Winners each receive $250 and could win an additional $250 if their cards are chosen for in-store sales.
Hallmark judges looked for cards with funny images and writing that worked well together and could be sent to many different people. Participants could enter a total of three different cards, two entries for anyone birthday and one entry for belated birthday.
This is Hallmark's 29th consumer-created card contest. The winners are from 14 U.S. states and a providence of Canada. Also in this contest, one entrant created two winning cards. Here are the winners in Hallmark's "Watch What You Say … Again!" competition:
Michelle Brosnan
Westbury, N.Y.
Gary Christman
Kingwood, Texas
Lisa Crisafi
Trinity, N.C.
Melanie Elmore
Tupelo, Miss.
Jenny Fenlason
Minneapolis, Minn.
Ryan Fosnow
Tega Cay, S.C.
Darren Frauenheim
Jacksonville Beach, Fla.
Allison Gordon
New Orleans, La.
Jean Hall
Naples, Fla.
Norris Ingbretson
Lombard, Ill.
Debbie Ivey
Wedgefield, S.C.
Theresa Kidder
Eden, N.Y.
Erika Laszlo
Garden City, Mich.
Rebecca Meinders
Pecatonica, Ill.
Kimberly Murray
Livonia, Mich.
Jane Rawson
De Ruyter, N.Y.
Diane Reyerson-Warren
Canton, Ga.
Nicole Spencer
Binghamton, N.Y.
Kate Stover
Valencia, Pa.
Dawn Swingle
Burlington, Conn.
Janet Taylor
Lago Vista, Texas
Connie Turek
Roach, Mo.
Sheila Wipperman
Vernon, British Columbia, Canada
Also this week, Hallmark announces the opening of the latest card competition – "¡Qué Funny Birthday!" Consumers are invited to create muy comico (very funny) birthday cards with a Latino style in the image or words. Entrants are encouraged to check out the Hallmark Contest Facebook page for tips on this contest. Submissions will be accepted Jan. 9 through 29.
For more information or to submit a card, visit Hallmarkcontests.com. You can also follow Hallmark on Facebook at http://www.facebook.com/Hallmark and on Twitter at http://www.twitter.com/hallmarkpr.
About Hallmark Cards, Inc.
Hallmark makes the world a more caring place by helping people express what's in their hearts and spend time together – a privilege few other companies in the world enjoy. Hallmark greeting cards and other products are found in more than 40,000 retail outlets in the U.S., including the network of flagship Hallmark Gold Crown® stores. The brand also reaches people online at Hallmark.com and on television through Hallmark Hall of Fame original movies and cable's top-rated Hallmark Channel. Worldwide, Hallmark offers products in more than 30 languages available in 100 countries. This privately held company is based in Kansas City, Mo., and is led by the third generation of the founding Hall family. Visit http://corporate.hallmark.com for more details.
# # # #