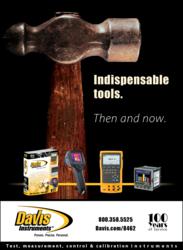 Vernon Hills, IL (PRWEB) January 09, 2012
Since 1912, Davis Instruments has supplied customers with innovative brand-name technologies in test, measurement, control, and calibration. Engineers, instrumentation technicians, and other process professionals have relied on its application specialists and sales representatives to help them choose and maintain high-performing devices. Now, 100 years later, Davis Instruments remains a sought-out leader—in delivering proven expertise, precise technologies, and personal service.
"Our customers inspire us to offer the instruments that make their jobs easier and more efficient. We are continually searching for beneficial technologies with time-saving functionality," said Andy Hamrick, Director of US Sales. "We back up our offerings with a team of technical experts and regional sales professionals who take the steps to ensure customers are truly satisfied. For generations, our customers have relied on this level of service. We look forward to providing it for generations to come."
To celebrate the 100-year anniversary, those registering on Davis.com or updating their online profile will be eligible for a $100 American Express® gift card drawing monthly. Customers will also have the chance to win valuable anniversary gift packs throughout the year. Additional events will be announced on the web site.
As the technological demands of industrial markets require more versatile equipment, Davis Instruments continues to add new products to its broad selection. To view products or the "Generations" Davis Instruments video, go to http://www.davis.com/18969.
Davis Instruments has been one of the world's leading sources of test, measurement, control, and calibration instruments since 1912. With expanding capabilities in industrial spheres such as power and utilities, petrochemicals, aerospace and electronics production, field services, and construction, the organization continues to respond to technological demands. Based in Vernon Hills, Illinois, Davis Instruments is dedicated to providing customers with excellent service and product applications expertise. For more information, contact Davis Instruments, 625 East Bunker Court, Vernon Hills, IL 60061. In the U.S.A. or Canada, call 800-358-5525. International customers, call 847-327-2000. Visit us at http://www.davis.com.
###