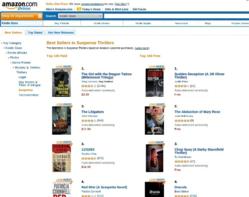 "My husband woke me up at 6:19 a.m. to tell me I made #1. My book featured next to The Girl with the Dragon Tattoo to me was astonishing."
(PRWEB) January 10, 2012
Judith Price, author of SUDDEN DECEPTION: A JILL OLIVER THRILLER explains how she got to number one, and how she made the tough decision to go exclusive on the controversial Amazon Select.
"I sat in front of my computer, finger ready to press un-publish on Smashwords, which opts out publishing on Barnes & Noble, Apple and other big online ebook retailers. But after careful consideration and research, I decided to go for it' she said.
Prior to joining on January 1st, 2012 Ms Price had the usual friends & family sales of a first time author. In the month of December - Amazon's busiest month of the year - she had no Kindle sales for her gripping new suspense thriller.
John Locke, who was the first indie author to sell more than one million kindle books, and others like him say … "you may have the best literary work of art, but if no one knows about it then …", she said.
"We went live at 12am PST and refreshed every hour to watch. I was #466,000+ before joining Amazon Select. Day six I was #53,694 and had sold four kindle books the day I started the free promotion through Amazon. I had no rank in the thriller suspense genre. Downloads just started coming in one after the other. In the first two hours I had 15 downloads, and when North American awoke, the downloads just kept coming and coming. After 24 hours I had 1821 downloads, #13 in thriller suspense genre and overall free kindle rank of #212. I was ecstatic."
Ms Price decided to step up her game and utilize social media networks, causing demand to snowball even further. Website communities began to chat about it, facebook began to share, and twitter tweeted and retweeted. With over 343,000 retweets, by the time she went to bed UAE time – 3+a.m. GMT+4 – Ms Price had over 6700 downloads and was #7 in the genre.
"My husband woke me up at 6:19 a.m. to tell me I made #1. My book featured next to The Girl with the Dragon Tattoo to me was astonishing."
The result: #1 best selling author in Amazon Free Select program in the genre thriller suspense and #17 in free kindle rank. 13,000+ downloads.
"It's very exciting to know that many people have taken the time to download and read my 88,000 word thriller! Thank you Amazon!"
Judith, an expat, is currently living in the Middle East and has published her first fiction novel, is busy crafting Indecent Deception: A Jill Oliver Thriller, the second in her trilogy and Matthew McGregor prequel. To find out more about her visit http://www.judithprice.com
For interviews, please contact judithprice(dot)com(at)gmail(dot)com
###