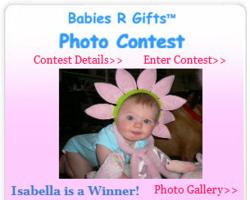 Babies R Gifts™ Photo Contest is a natural for today's new parents who spend hours sharing photos online in social networking environments
Brooklyn, New York (PRWEB) January 11, 2012
Babygiftcreations.com, a leading online gift boutique for over ten years, has launched The Babies R Gifts™ Photo Contest beginning January, 2012. This new and exciting photo contest is free for all parents with a child 18 months of age and younger. Parents can enter the contest simply by submitting a photo and tweet about their baby at http://www.babygiftcreations.com/index.php?p=contest.
According to company President, Richard S'Dao, "the Babies R Gifts™ Photo Contest is a wonderful way to celebrate the beauty and joy of each new birth". Besides, he added, "everyone loves a contest especially one that is easy, free and rewarding". He concluded by saying "the Babies R Gifts™ Photo Contest is a natural for today's new parents who spend hours sharing photos of their baby online in social networking environments".
A new Babies R Gifts™ Photo Contest begins each calendar month. Contest winners are determined by online voting at babygiftcreations.com. The baby who receives the most votes during a contest month wins. A running total of real time votes is displayed for each contestant throughout the contest month to help parents track results and to heighten excitement and anticipation in the contest,
The winning baby's photo will be featured on the homepage of babygiftcreations.com the following month. In addition, the winner receives a beautiful Personalized Rocking Chair prize, provided the winning vote total reaches 100. All other contestants are automatically entered into the next month's contest for a period of one year or until winning.
Babygiftcreations.com is presently a destination primarily for those looking to purchase an exceptional baby gift. The addition of the Babies R Gifts™ Photo Contest transforms babygiftcreations.com into a prime destination for new parents as well, including friends and family interested in voting in the contest.
About Babygiftcreations
Babygiftcreations.com is the e-commerce division of Silly Phillie® Creations. Silly Phillie® is a leading designer and manufacturer of distinctive baby gifts and infant apparel. The company's tract record for product innovation is largely attributed to the design talents of co-founder and company namesake, Phyllis Gordon S'Dao.
Babygiftcreations.com caters to the discriminating shopper. The website features a large collection of both customized and personalized baby gifts, all of which are made to order in the USA. Babygiftcreations.com products are sold online by numerous other baby gift boutiques through the company's popular drop ship program.
###