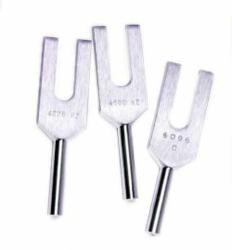 BioSonics is the creator of powerful tuning forks that bring the nervous system into balance.
Stone Ridge, NY (PRWEB) January 10, 2012
Leading sound healing company, BioSonics, makes its popular tuning forks from premium aluminum alloy using best-practice environmental and ethical guidelines. Adhering to rigorous testing, BioSonics tuning forks are immune to corrosion and produce clean, clear vibrations.
BioSonics tuning forks are:

tuned within 0.5% of the indicated frequency at 20 degrees Celsius.
inspected at least three times before sale
have the highest rating for quality of surface finish
BioSonics tuning forks are made in the United States from aluminum produced by Alcoa that was named one of the top three sustainable corporations at the World Economic Forum in Davos, Switzerland.
Less expensive tuning forks have a rougher appearance and 20+% less ring time. The tonal quality, important in the healing process, can vary by 2+%. Because of the softness of the cheaper aluminum, many overtones drop or are inconsistent reducing effective neural transmission. Companies supplying softer, impure aluminum at lower prices often have weak environment records and questionable labor practices.
"We are very proud of the quality of our tuning forks," begins Dr John Beaulieu, founder of BioSonics. "We deliberately use an American manufacturer, and source premium Alcoa aluminum that is produced using best-practices. It means our tuning forks offer quality and longevity and enhance the sound healing experience."
About BioSonics
BioSonics Enterprises is dedicated to developing and distributing life-changing products on music, sound healing, vibrational medicine and higher consciousness. Based on ground-breaking research by Dr John Beaulieu and Thea Keats Beaulieu, BioSonics is the creator of powerful tuning forks that bring the nervous system into balance. BioSonics also offers workshops, books, CDs, DVDs and awakening bells to help relaxation, pain management and stress release. Used by thousands of people worldwide, BioSonics changes lives. For more information and to view the online catalog, visit http://www.biosonics.com
###