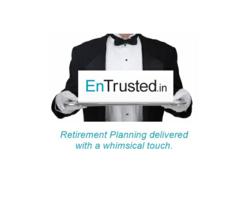 Greater New York City (PRWEB) January 11, 2012
EnTrusted.in, a comprehensive web-based retirement planning guidance program for workers and retirees, introduces new tool for repairing the American retirement dream: Bifurcated Retirement. Bifurcated Retirement serves to: 1) minimize Americans' fears of outliving their retirement funds, 2) simplify the retirement planning process, and 3) arm retirees with an effective weapon in fighting long-term care costs.
Bifurcated Retirement is predicated on the Federal Government extending Social Security benefit increases from delayed retirement to age 76, or even later (currently, beneficiaries may receive larger annual payments by delaying retirement only up to age 70). The delayed Social Security payments under Bifurcated Retirement are called "golden stage" benefits.
Those Americans electing to delay receipt of their Social Security benefits in order to receive "golden stage" benefits would bifurcate their retirement into: 1) early stage retirement (e.g., years 66 to 76), funded with assets from 401(k), IRA, and similar accounts accumulated during working years, and/or post-retirement working wages, and 2) late stage retirement (e.g., years 76 onward), funded with the "golden stage" benefits.
For example: an individual expects to retire in ten years at age 66 and projects annual retirement living expenses of $41,000 (75% of median annual household income for adults ages 55 to 64 of $55,000, U.S. GAO, October 2011). Social Security benefits beginning at age 66 would be $19,000 per year; however, a Bifurcated Retirement plan delaying receipt of those benefits until age 76 would provide "golden stage" benefits projected at $42,000 annually, enough to cover the individual's living expenses for the remaining years of retirement.
Living expenses from age 66 to 76 would be paid by funds from retirement accounts and/or post-retirement working wages. From age 76 forward, "golden stage" payments, which are indexed to inflation, backed by the credit of the US government, and paid for life, would match living expenses through retirement. As such, the fear of outliving one's retirement assets after age 76 is minimized.
Secondly, Bifurcated Retirement simplifies the retirement planning process. With the fear of outliving one's retirement assets greatly diminished by "golden stage" benefits, the average American would need to focus only on the first ten-year period after retirement. Living expenses for this ten-year period could be funded by either: 1) post-retirement working wages and/or 2) drawdown from retirement accounts, as needed, and/or 3) purchase of various securities, paid from retirement accounts, providing income during this ten-year period.
Thirdly, Bifurcated Retirement provides a powerful weapon in fighting the cost of long-term care and its burden on families. "Golden stage" benefit amounts ($42,000 annually in this example) would be similar to the expense amounts projected for long-term care, would be adjusted for inflation, and would be available at the time such costs would most likely be incurred (2011 national median monthly rate of $3261 for assisted living, $39,100 annually, Genworth Financial Cost of Care Survey, 2011).
For additional information on the mechanics of Bifurcated Retirement and its many benefits, please watch the accompanying video, "Repairing the American Retirement Dream."
About EnTrusted.in
EnTrusted.in, a newly released, internet-based platform of EnTrusted Financial Advisors LLC, provides comprehensive retirement planning guidance to US workers and retirees. The site, independent of any financial firm or financial backer, offers creatively produced educational videos, interactive retirement planning calculators, and an investment performance tracking program that utilize the best internet technology to deliver a unique step-by-step retirement planning guidance experience, not just education, to workers and retirees, at a very affordable price.
Plan sponsors of 401(k) and similar plans should note that EnTrusted.in operates independently of financial service providers and under a DOL safe harbor provision. As a non-fiduciary under current and proposed definitions, EnTrusted.in is able to offer its services free of fiduciary risks, onerous fee disclosure requirements, and other legal issues of concern to plan sponsors seeking to provide retirement planning guidance to their plan participants.
###