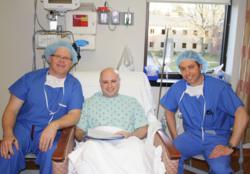 Recovery has been going well. I had minimal pain afterwards and have been improving each day.
BERKELEY HEIGHTS, NJ (PRWEB) January 11, 2012
Greg DeAngelis, 29, of Hoboken, recently became the 10,000th patient to be treated in 2011 at Summit Medical Group's Ambulatory Surgery Center. Mr. DeAngelis, formerly of Springfield, underwent knee arthroscopy to repair a meniscal tear.
Mr. DeAngelis said of his experience, "Everyone was so nice, which made this relatively easy. I was in and out pretty quickly and despite having had surgery, I felt pretty good that day. Recovery has been going well. I had minimal pain afterwards and have been improving each day."
Summit Medical Group orthopedic surgeon, David D. Bullek, M.D., performed the brief procedure. Bullek noted that his patient would be able to walk the day after his surgery. DeAngelis, a software developer, will be returning to work soon.
Summit Medical Group Ambulatory Surgery Center Director Roy Naturman, M.D., notes, "We are pleased to have had the honor of caring for so many patients this year. He adds, "Our complication rates are extremely low and we take pride knowing that each of our patients receives expert care from our skilled physician, nursing, and administrative staff."
The Ambulatory Surgery Center (ASC), at Summit Medical Group's 1 Diamond Hill Road campus, is licensed by the State of New Jersey. Certified by Medicare and accredited by the Accreditation Association for Ambulatory Health Care (AAAHC), the ASC performs same-day surgical procedures, including colonoscopies, endoscopies, plastic surgery, and surgeries of the ear, nose, and throat. Among the many benefits that distinguish Summit Medical Group's Ambulatory Surgery Center is that each of its patients has access to the Group's outstanding specialists as well as comprehensive Imaging/Radiology and Urgent Care Center services.
ABOUT SUMMIT MEDICAL GROUP
Summit Medical Group (SMG) is the largest privately held multispecialty medical practice in New Jersey. SMG has pioneered information technology advances in health care with its early adoption of electronic health records and e-prescribing. With more than 270 highly qualified healthcare providers, it is one of the most unique health care models in the state. SMG has an award-winning customer service program and NJBiz magazine has named it one of New Jersey's "Fifty Fastest Growing Companies". SMG treats more than 55,000 patients per month at its main campus in Berkeley Heights as well as its satellites in Berkeley Heights, Morristown, Millburn, Short Hills, Springfield, New Providence, Warren, and Westfield. As one of the East Coast's premier multispecialty groups, SMG has provided exceptional primary and specialty care since 1929.
###