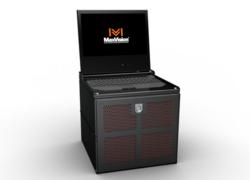 Madison, AL (PRWEB) January 18, 2012
MaxVision® and Visual Intelligence® have teamed to create a next-generation airborne digital sensing and image processing system that is modular, scalable, and future-proof/upgradable while satisfying commercial, homeland security, and military requirements for affordable extreme-resolution.
A wide variety of applications – including commercial, homeland security, and military – are starving for affordable, extremely accurate digital sensor and image data. Traditional, full-custom solutions are exceedingly expensive and take an excessive amount of time and resources to develop and deploy. In addition to being costly to support, these full-custom solutions quickly fall behind the curve as new technologies are presented to the market.
In order to address these issues, Visual Intelligence has developed the Iris One™ digital sensing system for use in manned and unmanned air vehicles. Leveraging COTS technologies to reduce costs and facilitate rapid deployment and enhancement, and providing resolutions as high as 2 in / 6 cm on-the-ground, the modular architecture of the Iris One allows it to scale to address different sensing applications. For example, the Iris One architecture can accommodate color and near infrared camera modules, and also integrate/fuse other remote sensing systems (e.g. hyper-spectral, thermal, etc.) that can be configured via plug-and-play hardware and software modules. This modular architecture also facilitates on-going enhancements to individual portions of the system, such as swapping in a higher-resolution cameras to improve resolution and collection capacity as required.
The Iris One hardware is complemented by the Iris Sky™ and Isis Earth™ software applications. Iris Sky provides sophisticated in-flight ortho processing capabilities, while Isis Earth provides ground-based post-processing capabilities used to generate even more accurate ortho images.
Iris Sky supports the integration of diverse sensing camera modules and is optimized for on-board processing of imaging applications, including but not limited to Ortho Mapping, Stereo DEM Generation, Change/Anomaly Detection, and Sensor Data Fusion. All of this requires extremely high computational capabilities coupled with extreme data bandwidths and storage.
In order to satisfy the extreme processing requirements of Iris One and Iris Sky, Visual Intelligence turned to MaxVision, which designs and manufactures ruggedized, high-performance, portable and transportable servers, workstations, and accessories. In the case of unmanned air vehicles, low weight and low power consumption are key requirements.
The solution was MaxVision's MaxCube™II Compact Mobile Super-Server – the most feature-rich, highest computing density, ruggedized mobile server available in the industry. Occupying only one cubic foot, the MaxCube™II boasts the following features:

Two Intel quad-core or hex-core Xeon processors providing up to twelve 64-bit CPU cores
Eight removable 3.5" SATA hard disks – each up to 3TB totaling up to 24TB – configured in a variety of quick-removable magazines; also supports rotating and solid-state 2.5" drives; also supports high-performance RAID 0, 1, 5, and 6
Supports multiple input power supplies: 90-264VAC @ 50-400Hz, 90-380VDC, 28VDC
Optional integrated UPS, assuring continuous operation at full load for up to 5 minutes.
Operates over the full temperature range of 0-50°C
Patented air filtration system eliminates nearly all small particles in heavy load environments (filters all components, even the optical disk)
… many more (visit the MaxVision website for more details)
The MaxCube™II's small size, low power consumption, and extreme data storage and processing capabilities make it an ideal platform for intensive computing applications, such as Iris Sky and Iris Earth from Visual Intelligence. The combination of Iris One, Iris Sky, and the MaxCube™II redefines airborne digital sensing and image processing for the 21st Century.
About Visual Intelligence
Founded in 1997, Visual Intelligence ("VI") has developed and operated three generations of Intelligence, Surveillance, Reconnaissance (ISR) and Mapping imaging sensors, the latest being the Iris One System. The Iris One is scalable, modular, and utilizes solid state components. For more information, go to http://www.visualintell.com or contact Conse Vecchio, Senior VP, by telephone +1.713.917.8300 ext. 3006 or email conse.vecchio(at)visualintell(dot)com
About MaxVision
Founded in 1993, MaxVision manufactures rugged, portable and transportable servers, workstations, and accessories with no compromises in performance. MaxVision's designs provide extensive customization, including advanced air filtration systems, advanced power conditioning, and certified tolerance for extended runtime in harsh climates. For more information, visit http://www.MaxVision.com or contact Tim Kavanagh, VP of Sales, by telephone +1.256.428-1984 or email tim(at)maxvision(dot)com
###