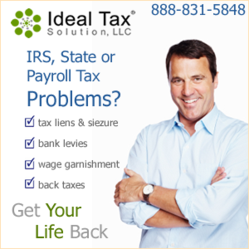 Tax Resolution companies can stop wage garnishments, release and avoid tax levies and liens, and most important they help people get their lives back
Costa Mesa, CA (PRWEB) January 09, 2012
The IRS released a news article recently showing a breakdown of non-compliance in back taxes, and the consequences. More and more Americans who owe back taxes are becoming more overwhelmed with their debt due to penalties and late charges that continue to multiply. A study done in 2001 was again done, recently, for 2006, and showed that the amount of compliant taxpayers is a steady number. Leaving the non compliant equally as steady, and much more in debt.
The IRS states "The Internal Revenue Service today released a new set of tax gap estimates for tax year 2006. The tax gap is defined as the amount of tax liability faced by taxpayers that is not paid on time. The new tax gap estimate represents the first full update of the report in five years, and it shows the nation's compliance rate is essentially unchanged from the last review covering tax year 2001. The tax gap statistic is a helpful guide to the scale of tax compliance and to the persisting sources of low compliance, but it is not an adequate guide to year-to-year changes in IRS programs or to year-to-year returns on IRS service and enforcement initiatives. The following table summarizes the new estimates being released today, as compared to the 2001 estimates, along with the total tax liabilities in each year." Irs.gov. The amounts of total tax liabilities (in billions) in 2006 alone is $2,660. $65 billion of this is estimated to be late payment charges alone and does not include penalties.
Tax resolution companies are encouraging taxpayers with tax debts, of personal and business alike, to seek assistance in settling these matters. The IRS is growing more and more impatient since they are running numbers on how much debt is actually owed yearly. Tax companies can stop wage garnishments, release and avoid tax levies and liens, and most important they help people get their lives back.
Ideal Tax Solution, LLC is located in Costa Mesa, CA and provides tax negotiation services, preparation and is a collection defense specialist. Their Tax Attorneys, IRS Enrolled Agents, CPAs, Senior Tax Consultants have over 55 years of combined experience working to help American tax payers with the IRS and State Tax Agencies. Ideal Tax boasts an "A" rating with the Better Business Bureau earned through providing excellent services.
###