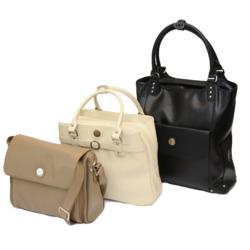 LAS VEGAS (PRWEB) January 10, 2012
Jill-e® Designs, the leading maker of stylish, protective bags for today's tech-savvy, on-the-go lifestyle, is excited to introduce new E-GO™ laptop bags and career bags available in rich, soft leather and sophisticated designs. The new leather bags along with an assortment of Jill-e Designs latest career and laptop bags are on display in the iLounge at CES in Booth #6612.
The E-GO Collection – designed by women for women – offers convenient one-bag options that protect and organize a woman's "tools of the trade" without compromising style. E-GO carry bags are the right choice for career women, frequent travelers, busy mothers, on-the-go students, photography lovers – anyone wanting to keep their multiple electronic devices safe and accessible alongside their lifestyle essentials. The latest models offer women a sophisticated carry bag option - available in weather-resistant leather, with added features and in rich, classic colors.
"The high-fashion, high-function career bags in our exciting E-GO Collection provide women with a stylish, secure option to help hold all their 'tech-cessories' and lifestyle essentials, keep them safe, and look good at the same time," said Gail Backal, president and co-founder of Jill-e Designs. "Now we've raised the bar with a selection of leather E-GO bags in gorgeous colors that are perfect even for the most stylish and professional settings, and made with the same close attention to detail as our quality photography bags."
Offering strategic protection within a stylish silhouette, versatile E-GO bags represent a chic, feminine alternative to traditional carry and career bags more often designed for men. These leather bags, with their padded interiors and wide array of "task pockets," provide the highest level of protection and organization for today's modern woman. Colors include classic black, chocolate croc, starfish and vanilla to match every wardrobe and every occasion.
The new leather E-GO bags are available in the following models:

E-GO Leather Laptop Tote: Large enough to hold a 15" laptop and a DSLR camera set-up*, with a trolley pocket and an assortment of secure compartments for all your lifestyle essentials and a look that's chic and sophisticated
E-GO Leather Laptop Career Bag: A stylish gadget bag that accommodates a 12" laptop, camera gear* and personal items, with a top zipper closure for extra security
E-GO Leather Tablet Messenger: Convenient cross-body styling holds a 10" tablet, e-reader or netbook, with room for other daily essentials, and a roomy front pocket for a smartphone, keys and other need-it-now items
E-GO Leather Wristlet: Great for a day or night out on the town, offering complete protection for a smartphone, point-and-shoot camera or MP3 player and personal items
An optional, drop-in protective insert accommodates a DSLR and 1-2 additional lenses and is available from Jill-e.com.
The leather E-GO Collection will be available mid-February on the Jill-e Designs website and at other popular online retailers and outlets worldwide.
About Jill-e Designs
Jill-e Designs fashions sophisticated carry bags for those living today's tech-savvy, on-the-go lifestyle. Fusing fashion with function, Jill-e offers everyone, from the tech-toting career woman to the photo-snapping fashionista, bags with style, flair and built-in protection for fragile electronic devices which have become essential to our daily lives. For more information on Jill-e Designs' stylish alternatives to typical camera and e-gear career bags, visit http://www.jill-e.com.
###