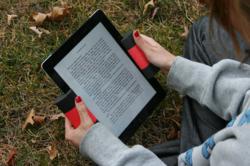 Tablets are awkward to hold for long periods. This is a very clever solution.
Minneapolis, MN (PRWEB) January 12, 2012
Tablet computers & e-readers are thin in profile; they require you to hold them by their edges making it easy to mistakenly touch the screen. These features can make reading, watching a movie or playing games uncomfortable. The smooth finish on some tablet computers can be difficult to grasp resulting in dropping or slipping. Comfortable Geek's premier product MI-handle makes them much easier to hold.
The ergonomic shape of the MI-handle gives tablet computers a larger surface to grasp. This makes them easier to hold even for extended periods. The innovative and simple design is perfect for any user. The profile of the handle has been specifically designed to fit a grasping hand in a more natural position. The larger profile makes them easier for children to hold onto. Models for using your tablet in portrait or landscape positions are available. Customers who use them say: "It is a secure and comfortable grip for extended reading or video viewing." "Tablets are awkward to hold for long periods. This is a very clever solution." "I love this product!" "Having used my handles for some time now, I can't see how I ever lived without them." With the widespread use of tablet computers today these tablet handles are a must have. They are an economical solution for ensuring a good grip in your tablet computer.
MI-Handles are made from low density foam giving them a soft but firm feel. The foam used to make MI-handles is made using an environmentally friendly, clean, non-contaminating, nitrogen expansion process. All materials that make up the handles are non-abrasive so they don't scratch or scuff. MI-handles are available in different colors, both solid and mixed colors including black, red, blue, white, green, yellow and more.
MI-handles offer greater stability, comfort and ease of use. Whether you are using the handles for reading, movie viewing, gaming, web surfing, work or school work you are sure to have a delightful experience.
# # #