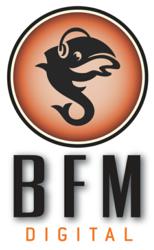 New York, NY (PRWEB) January 10, 2012
BFM Digital, a global music company, specializing in digital distribution, marketing, and promotions, announces its 2011 digital sales revenues outpaced the projected global digital music sales industry growth by 23%.
In 2011 BFM saw its overall catalog also grow by 25% with their digital music sales growth at the impressive rate of 30%. The general digital music sales growth for the overall industry is estimated to be 7% for 2011.
"Our growth reflects our commitment to providing the best customer experience possible. There is a strong need in the music industry to have one's digital distributor be a true partner and we strive to fill this need. The numbers clearly show that we're striking a chord amidst a strong competitive field," says Steven Corn, CEO of BFM Digital.
Part of BFM Digital's success can be attributed to a client/content retention rate of 99% over the life of the company. These numbers reflect a consistent exponential growth trend for BFM who in 2010 also delivered a digital sales growth of nearly 30% as well.
This growth will allow BFM to expand its marketing services as well as continue the development of its own record labels: BFM Jazz, Not Us Music, Toasting Music and Krian Music (the latter being a joint venture with The Royalty Network).
For more information, please visit http://www.bfmdigital.com
About BFM Digital, Inc.
BFM Digital is a global digital music company committed to serving the independent music community and delivering quality music, spoken word and video content to leading online retailers worldwide. Representing a diverse catalog of indie labels, artists and publishers, BFM distributes to all of the major music services including iTunes, Amazon, Rhapsody, eMusic, Napster, Walmart, Nokia and many more. With an unparalleled commitment to personalized service, BFM works closely with their content providers from around the world to ensure maximum exposure of their catalog by customizing marketing efforts and building strong relationships with BFM's digital store partners.
###