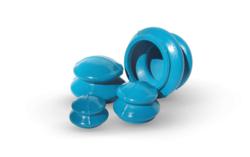 We are excited to now offer Acucups. Not only do they give an alternative to the traditional glass cupping jars, they are also ergonomically beneficial for therapists. We also like that the Acucups are unbreakable and are easy to travel with
Chicago, Illinois (PRWEB) January 11, 2012
In addition to its glass cupping jars for cupping therapy, BestMassage now offers the Acucups Natural Rubber Cupping Therapy Set. Cupping therapy involves suctioning the skin at various meridians, or energy channels according to ages-old Traditional Chinese Medicine. The act of suctioning the skin is thought to unblock Chi, or energy, by improving blood circulation and releasing stagnant blood pools. It is credited in stimulating circulation and relieving high blood pressure, inflammation, and fibromyalgia.
The Acucups are different than traditional glass cupping therapy jars because they are made of natural rubber and will not break. Additionally, the Acucups do not rely on heat to create suction as the glass jars do. Using Acucups involves pressing down on the cup, placing the cup onto the skin and releasing the cup allowing it to regain its original shape. This series of actions creates negative pressure and causes the skin under the cup to be sucked upward.
In addition to the benefits of unblocking Chi, Acucups have been recognized to be a useful tool in deep tissue massage. Instead of pressing down on the skin, the Acucups pull up on the skin, giving the same effect of deep tissue massage. Because they eliminate the need to push down on the body during deep tissue massage, Acucups claim to reduce the occupational injuries therapists incur from overworked muscular-skeletal systems. In fact, Acucups is a sponsor of the Injury Prevention and Ergonomics Solutions for Manual Therapists (SaveYourHands.com).
"We at BestMassage have become more recently involved with cupping therapy," reveals Amona Buechler, owner of BestMassage. "We are excited to now offer Acucups. Not only do they give an alternative to the traditional glass cupping jars, they are also ergonomically beneficial for therapists. We also like that the Acucups are unbreakable and are easy to travel with because they nest into each other. We're looking forward to seeing how they sell."
BestMassage offers the Acucups Natural Rubber Cupping Therapy Set which includes a small, medium, large and extra-large Acucup as well as a meridian chart with acupuncture/acupressure points for the most common bodily ailments for $19.99. BestMassage is also selling the Acucups Cupping Massage DVD which teaches classic cupping massage techniques for $29.95.
###