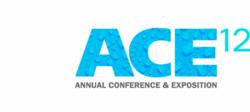 DENVER, CO (PRWEB) January 10, 2012
Registration is now open for the American Water Works Association's (AWWA) 2012 Annual Conference & Exposition (ACE12), to be held June 10-14, in Dallas, Texas.
The global water community will gather at the Dallas Convention Center to explore the future of safe water, gain insight into cutting-edge research and best practices, and experience the latest products and services available to the water community.
ACE12 will feature eight in-depth, interactive workshops and more than 100 professional sessions comprising more than 550 presentations. Attendees will have the opportunity to earn contact hours for the Distribution & Plant Operations, Engineering and Construction, Manufacturers & Associates, Reuse, Small Systems, and Water Quality tracks. Additionally, Sunday workshops and facility tours may qualify for contact hours.
More than 500 service providers will exhibit at ACE12, showcasing the latest products and services for all aspects of the water industry. These exhibitors will offer expert insight and hands-on understanding for everything from pipes to valves, meters to hydrants, engineering services to tank-related companies, membrane filtration systems to laboratory equipment, and security to wastewater. The New Product Technology Showcase will return to highlight the newest and most innovative products and technology available.
ACE12 will also offer unique events focused on sections, diversity issues, young professionals, students, public officials, operators, international attendees, and first-time attendees. The annual Pipe-Tapping Contest, Top Ops Competition, Meter Madness, and the "Best of the Best" Water Taste Test will be held as well.
To register, visit http://www.awwa.org/ACE12. Individuals interested in learning more can also follow ACE12 on Twitter, Facebook, and LinkedIn.
Media Note: Accredited members of the media may attend ACE12 at no charge. However, they are required to register with AWWA Public Affairs. For media registration, please visit the press room at http://www.awwa.org or contact Deirdre Mueller at dmueller(at)awwa(dot)org or 303-347-6140.
AWWA is the authoritative resource for knowledge, information, and advocacy to improve the quality and supply of water in North America and beyond. AWWA is the largest organization of water professionals in the world. AWWA advances public health, safety and welfare by uniting the efforts of the full spectrum of the entire water community. Through our collective strength we become better stewards of water for the greatest good of the people and the environment.
# # #