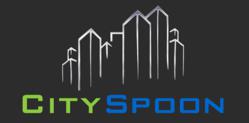 Las Vegas, NV (PRWEB) January 09, 2012
CitySpoon.com, the web's online home for free coupons and great deals, has witnessed tremendous growth in popularity throughout the end of 2011 and the early beginning of 2012. Increased visitor traffic has allowed the many businesses using CitySpoon to receive significant traffic by advertising deals to Spooners, growing business using CitySpoon's free advertising platform. The social media reach for CitySpoon has also seen rapid growth. CitySpoon uses a variety of social media tools, most notably Facebook and Twitter, to increase brand awareness and to advertise the many online coupons available on CitySpoon.com to the vast Internet world. With this rapid growth, combined with the new ideas that CitySpoon looks forward to launching within the first quarter of 2012, CitySpoon.com is currently planning a variety of contests that will continue to drive traffic and give even more reason for Spooners to interact on CitySpoon.com and its related social media outlets.
2011 saw the launch of CitySpoon.com, and since then has grown in both popularity and traffic. Recent visitor numbers have shown significant increases in brand awareness and site usage. Vendors currently listing coupons have reaped the rewards of this increased traffic, showcasing their brand and available deals to the ever growing user base of Spooners. CitySpoon launched its free advertising services in Las Vegas, NV, where the majority of the current businesses on CitySpoon.com currently reside. The current Las Vegas coupons have helped many businesses in the Southern Nevada area increase the amount and frequency of locals using their services, proving that CitySpoon's method of offering free advertising services is a win for everyone involved. These great Las Vegas deals are available to all Spooners, and the CitySpoon services are available to any interested businesses throughout the nation.
Along with increased website traffic, CitySpoon's social media reach has significantly increased as well. CitySpoon uses social media to help advertise its coupons and services, vicariously advertising the businesses that have posted coupons on CitySpoon.com at the same time. This additional advertising service provided by CitySpoon helps increase business for CitySpoon's vendors, and at the same time has proven to increase awareness of the CitySpoon brand. At a growing rate Twitter users are "following" CitySpoon to see the latest and greatest deals and to discuss recent changes in the online coupon world. Similarly, CitySpoon's Facebook page, which showcases several CitySpoon coupons and even has a featured Coupon of the Week section, has recently witnessed increased page "likes", growing its Facebook reach by over 50 percent since early December. Through advances in social media traffic CitySpoon can now reach even more individuals to advertise CitySpoon and the many businesses using CitySpoon.com to advertise their services.
With increases to users comes the opportunity for several new and exciting endeavors for CitySpoon.com. The upcoming launch of CitySpoon's newest project, dubbed SpoonerSpot, has given CitySpoon the means of engaging the entire Spooner population through several fun and creative user interaction opportunities. CitySpoon functions on the premise that individuals can save money when they "know what the locals know". SpoonerSpot will take this concept one step further by engaging with all of the CitySpoon users to determine the most popular places to eat, drink, hangout and enjoy life in their city. To help launch this upcoming project CitySpoon is interested in knowing the best places to do a variety of things, initially starting with a contest to locate the best Happy Hour location in the United States. Interested Spooners can post a picture of their favorite Happy Hour location on the CitySpoon Facebook page along with a short synopsis of why this location is the best place to enjoy Happy Hour. The Spooner who has the most "likes" on their picture by the end of the contest will receive a free smart phone of their choice from CitySpoon. The contest will officially begin within the next week and will be advertised throughout CitySpoon.com and its related social media outlets, but Spooners can already post their pictures and reviews and let all of their friends know that they need "likes" to win the contest, all on the CitySpoon Facebook page.
Significant growth, expanded reach and increased business for CitySpoon vendors has been a strong theme for the early days of 2012, and CitySpoon looks forward to continuing this trend throughout the year and beyond. Be sure to stay in touch with CitySpoon using any of the available CitySpoon social media outlets and don't forget to check out CitySpoon.com for the hottest deals and events! 2012 is going to be a big year for CitySpoon and now is the perfect time to start spooning!
About CitySpoon:
CitySpoon, launched Summer 2011, serves as a local guide for living bigger, better, and smarter by providing in-the-know recommendations, candid user reviews and expert advice for businesses and events in CitySpoon communities.
CitySpoon was created as a multi-platform resource for people to save money and help businesses grow. The site offers discounts on national products consumers already know and love while providing local businesses with an affordable avenue to market their current promotions.
CitySpoon members are enthusiastic about life and the driving force behind the company. Together with a private network of local and national businesses, CitySpoon offers fun, affordable experiences. CitySpoon keeps "Spooners" connected to the most popular and unique places and products.
For more information please visit http://cityspoon.com.
Follow CitySpoon on Twitter: @CitySpoon
"Like" CitySpoon on Facebook: facebook.com/cityspoon
###