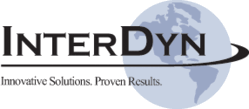 New York- NY (PRWEB) January 11, 2012
InterDyn AKA, one of the most distinguished Microsoft Partners globally, was selected a winner of the 2011 VAR Stars award by Progressive Media Group's Bob Scott's Insights.
The 2011 VAR Stars on the list have a practice involving the sale of mid-market financial software and while most derive significant revenue from other sources, accounting software is the core to their business. Each of the 100 members has equal standing and is not rated. The selection of VARs included several factors including growth, industry leadership and innovation and representation of a broad range of products. InterDyn AKA sells and supports Microsoft Dynamics GP and Microsoft Dynamics AX and Microsoft Dynamics CRM solutions.
"It's an honor to have our firm be selected as a 2011 VAR Star winner," said Jim Bretschneider, Executive Vice President Sales and Marketing for InterDyn AKA . "We are extremely pleased to be recognized again as an outstanding reseller and service provider of accounting software applications. Our deep expertise, particularly in developing solutions for media and financial services companies, has helped our clients navigate through a tough economic climate and realize a proven ROI from their technology investments. Our commitment to growth within our strategic verticals and expanding our services to provide both on premise and cloud hosting will forge a path for our future success."
InterDyn AKA's accomplishments in 2011 include "Microsoft ERP Partner of the Year for the East Region" and top three Microsoft ERP partners worldwide. Launch of InterDyn AKA Cloud Solutions, and continued strength in its core Microsoft Dynamics business combined with solution development for media and financial companies has led to expanded opportunities and has allowed the company to post gains in a soft economy.
Bob Scott's Insights provides the mid-market reselling community with news and analysis giving them insight into the issues that affect the business of resellers and vendors alike. It informs and entertains, giving this critical market a quick-and-easy read that is both instructive and interesting.
About InterDyn AKA
InterDyn AKA is a leading Gold Certified partner dedicated to the sales, consulting, training and support of Microsoft Dynamics Business Solutions. InterDyn AKA focuses specifically on implementing and creating solutions around the Microsoft Dynamics GP (Great Plains), Microsoft Dynamics AX (Axapta) and Microsoft Dynamics CRM applications and Business Intelligence (BI) solutions. As an InterDyn company, InterDyn AKA offers the advantage of specialized talents and industry expertise of more than 500 certified professionals supporting more than 3,500 customers worldwide. For more information about InterDyn AKA visit http://www.interdynaka.com.
# # #