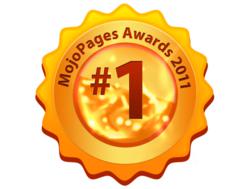 It's a high honor for a business to get the MojoPages Award's #1 spot
San Diego, CA (PRWEB) January 09, 2012
MojoPages has announced the top gyms in cities around the United States for the Best Gym category. Each week, this Yellow Pages website concludes a contest for a specific business category, with a total of 52 categories in all. MojoPages allows people to search and vote for businesses in their city, giving each business a ranking within their category.
While users have one year to vote for their favorite business, competition tends to ramp up during the final weeks. On January 1st, the final votes were cast for Best Gym, with nominations coming from cities such as San Diego, Los Angeles, Detroit and Chicago. The votes have been cast and the winners have been announced.
Victory MMA was voted the Best San Diego Gym. In Los Angeles, Hardcore Fitness Boot Camp won while Detroit's winner was Lifetime Fitness. Chicago's winner was One-on-One Fitness and Philadelphia's Best Gym was Acac Fitness. Orlando's winner was Beach Street Gym.
The votes and subsequent rankings are provided by users of the site and show just how popular each gym is. Those businesses ranking 2nd, 3rd, etc. are recognized as well. Within each business' profile, site users can find the number of people that voted and what percentage of total votes went to that particular establishment.
The votes are finalized every Sunday and announced to the masses. It's a high honor for a business to get the MojoPages Award's #1 spot. It means getting placed at the top of the search list for their category within their particular city. There are various cities that participate in the MojoPages Awards, with awards being given out weekly.
During the week of January 7th through January 14th, users will have their final chance to vote within the Best Tanning Salon category. Any Tanning Salon is eligible to be ranked. Current ranks are already displayed so that voters can help bring a favorite into the #1 spot before winners are officially announced on January 8th.
Anyone interested in seeing the full category list for 2012 of the Yellow Pages can visit the MojoPages website at http://www.mojopages.com/.
# # #